So today I got a "leaflet" in the post telling me all about the wonderful work of my local MP. Bob Neill.
I've never had the misfortune of meeting him, I think this is for the best being arrested for GBH maybe look wrong.
So I calmly read the "leaflet" and can't help feeling sorry for Bob he's clearly ill! His lies are clearly having a toal.
Dealt with over 6,100 letters and email from constituents
Lets examin that…
Conservative (Make of that what you will)
Bob Neill MP
I emailed Bob Neill on on I got a response from Vanessa Michna using Bob Neill's email address.
In my email, I talk of making a formal complaint, the CQC & ICO.
This indicates I've got a little common sense. Vanessa Michna response was patronising. And I have no idea if Bob Neill saw my email.
A quick google gave me www.theyworkforyou.com from this we learn…
Voted moderately for greater restrictions on campaigning by third parties, such as charities, during elections
Voted moderately against a referendum on the UK's membership of the EU
Voted strongly against paying higher benefits over longer periods for those unable to work due to illness or disability
Voted moderately against raising welfare benefits at least in line with prices
Mr Neil is against free Speach & not supportive of less fortunate people.
UPDATE
So clearly Mr Neill hates being exposed as a rat.
Blocked by Bob Neill MP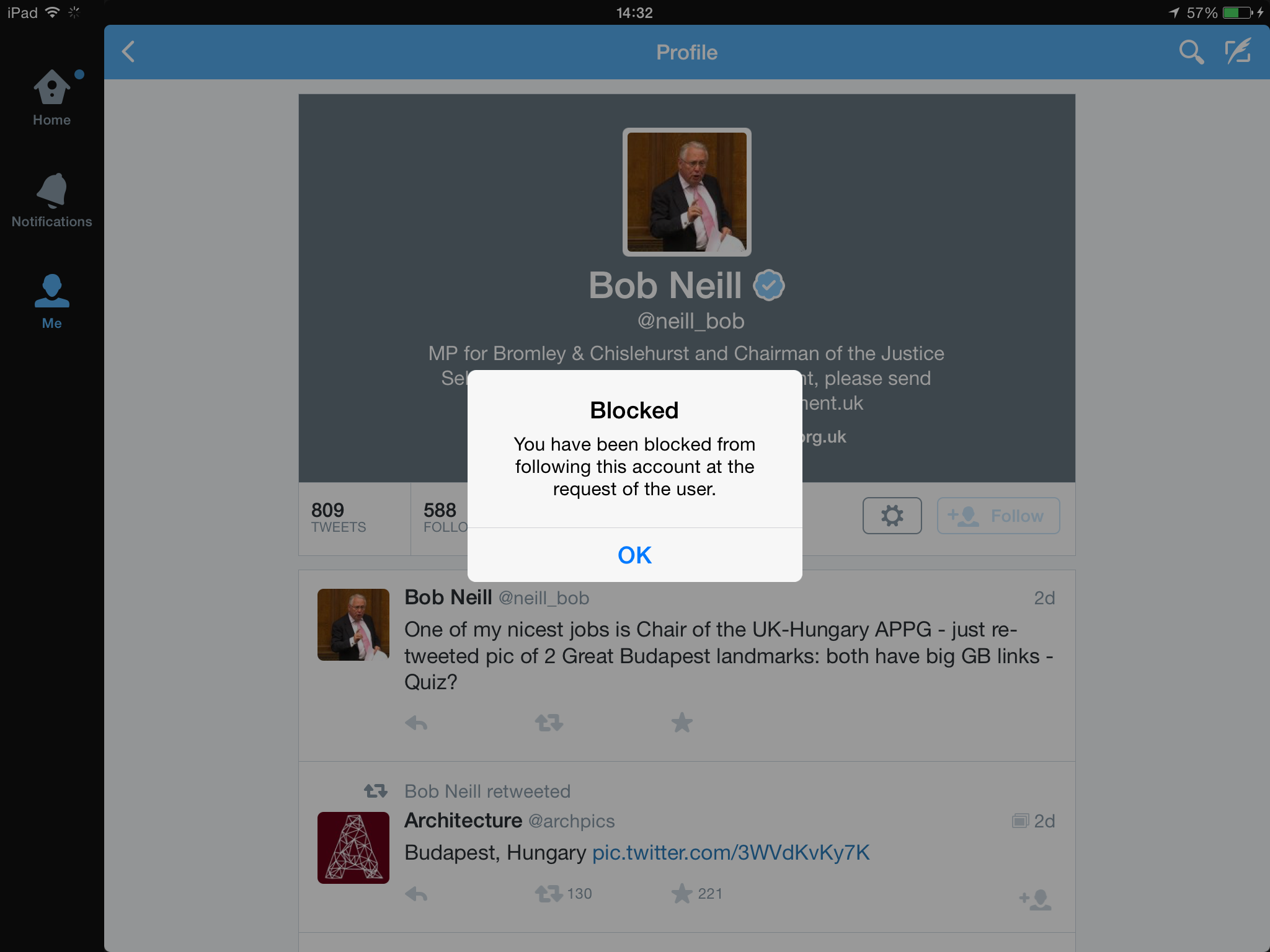 Blocked by Bob Neill MP
Now as a disabled man Twitter makes correspondence very simple. we see above that email is pointless (There are no assurances that Mr Neill even see it)
I could attend his advice surgeries however this poses another set of problems, such as disabled facilities at the venue.
I'm not sure but "blocking" a constituent is not very democratic.