Gas wrongly charges disabled man approximately ₤2000 and won't refund it
In my previous flat, I was a British Gas customer since 2013. I happily paid my bill by Direct Debit. As I'm disabled I never physically checked the meter. In Mid September 2016, I Received a huge bill. Turns out there was a cross meter situation in my old flat. Turns out it was all the flats we each had other people's meters and were paying each other's bills! British Gas won't refund me the payments I've made on the wrong meter!!
Detail
I've been in contact with www.ombudsman-services.org/sectors/energy After being impressed by their helpful attitude, however having the the report this was misguided and they are useless.
On I moved out of Flat 64 Rosing Apartments, Bromley, BR2 9FN (reference as BR2)
On you (British Gas) sent me a bill (Electricity_Bill_22Sep16) I'm in debit by £667.66
It appears in my bill (Electricity_Bill_03Aug16)
I was in credit by ₤12.48 You billed me ₤999.41 (3)
The bill covers until
On you read the meter as 07534
On you estimated my meter reading as 12143
This results in an estimated kWh usage of 4789.00 (1)
(see page 4 of bill dated )
On you estimated my meter reading of 12143
On you read the meter as 14950
This results in an actual kWh usage of 2807.00 (2)
(see page 4 of bill dated )
You used estimated reading in this calculation. It can not be referred to as actual
Both 4789(1) + 2807(2) Gives a kWh usage of 7596. This gives a cost of £908.48 add service charge and vat gives a final bill of ₤999.41 (3)
(see page 4 of bill dated )
What makes this reading extra special is (see page 4 of bill dated ) You (British Gas) included my usage from the same period the previous year and I only used 534 kWh
As a disabled young man with most large appliances as gas (Central heating, cooker, shower) I was surprised to get this bill. I call you for assistance, after a lot of hard work I was asked to provide current meter readings from BR2
On I asked my landlord to confirm my meter reading.
On they confirmed the reading, but the meter serial number they quote is different to what you (British Gas) quote.
On I asked the Landlord to confirm the meter serial number.
On the landlord responded confirming my serial number is Z10N019515 You have it as Z10N019509
If wrong you've been billing me for the wrong meter for 5 years.
After a very unhelpful conversation with your Customer Support Representative and her equally unhelpful manager, I discovered there is no simple way for you to fix this. According to the representative it's my responsibility to conduct the "Burn Test" with the assistance of my landlord, the new residents of BR2 and the owners of Z10N019515
Firstly I have no legal power over my landlord or the new tenants.
Secondly, the ground floor residents of Rosing Apartments and myself are all vulnerable adults with a range of disabilities that may not allow for a power interruption. I myself am on your "priority fix" list due to my disabilities.
What's more annoying is page one of the bill dated You (British Gas) say my account is fine and you're not changing my payments! I'd say you failing in your duty to keep the customer informed.
I was beginning to feel this was a lot of effort but I received a letter from Moorcroft Debt Recovery Limited – I realized you're incompetent.
I have been discussing this debt with you since September. I've said many times I can not conduct the "Burn Test" and have been ignored when giving my reasons – as above. If there is a mistake with the meter serial the compensation will have to be substantial to acknowledge the five-year mistake and the bullish attitude you've taken. If the serial Is correct you're going to explain how I could use 7596 kWh of electricity.
On the bill dated on page 1 it clearly shows a direct debit
Of £212.00
On After a very rude Customer Service Agent at British Gas, I switched my provider.
After a quick google, I see this is a common tactic. Until you provide me with and accurate bill and explain the usage I will not be paying. Your welcome to take me to court.
The final report from the Ombudsman is repetitive and incomplete!
Following the investigation, my decision is that British Gas should:
• apply the Energy UK Code of Practice for Accurate Bills (often referred to as The Code) to the account, and remove charges for unbilled energy usage that are dated more than 12 months from the date of the first accurate bill;
• re-bill the account using the correct electricity meter serial number of Z10N019515 using the closing meter reading of 15035 on 1 September 2016;
• confirm in writing that if you identify British Gas has added any adverse payment information to your credit file due to these issues that have occurred on your account, on receipt of written proof of this from you, it will remove such information and confirm to you in writing on completion of this; generated
• issue a written apology for the inconvenience these issues have caused, which includes an apology for any inconvenience caused by referring the account to external debt collection agencies;
• offer you a payment plan which takes into account your ability to pay;
• credit the account with a £100 gesture of goodwill.
The report disagrees with my assertion of being a British Gas customer for five years. British Gas claim I've been a customer since 2013. This fails to acknowledge that I moved into BR2 in 2011. The account would have been in my partner's name but would have been for the same address. I, however, have lost the will to argue. So will accept 2013
The report talks about Energy UK Code of Practice but fails to provide either the code or a link. A google provides The Code
On Page 10 of The Code we have
5. Back billing
If your supplier is at fault and has not sent you an accurate bill, they will not ask you to pay any extra for the energy you used (and for which you did not receive an accurate bill ) more than one year before they issued the bill.
If we accept I've had an account since 2013 (i don't) and if we accept i've been paying £21 a month.
We have to conclude
£21.00 * 96 = £2058 The amount I've potentially paid on the wrong meter.
£21.00 * 12 = £252 The amount my Direct Debit has paid for the last year.
That a difference of £1806. British Gas have offered < £30 as a refund.
The "Back Billing Code (above)" says nothing about limits on refunds or ignoring payment made due to the error.
The report also states 15035 on . Is the closing meter reading however it does not explain how a bill was generated from this.
The report fails to comment on
The wording of the Bill in
This in my view is a breach of The Code
"Suppliers will use all available information to produce accurate and clear bills, on time."
The Code also states… 3.5 Your supplier will make sure that they check unusually high or low bills before they send them out.
The bill had me list as using 7596.00 kWh (£999.41) given the exact year prior I used 534.10 kWh
The unauthorised taking of £212.00 on the bill dated
A breach of the Direct Debit Guarantee
The instance of British Gas I perform the Burn Test despite telling them I was disabled.
This in my view is a breach of the Equality Act 2010 As a Reasonable Adjustment
British Gas Electric Meter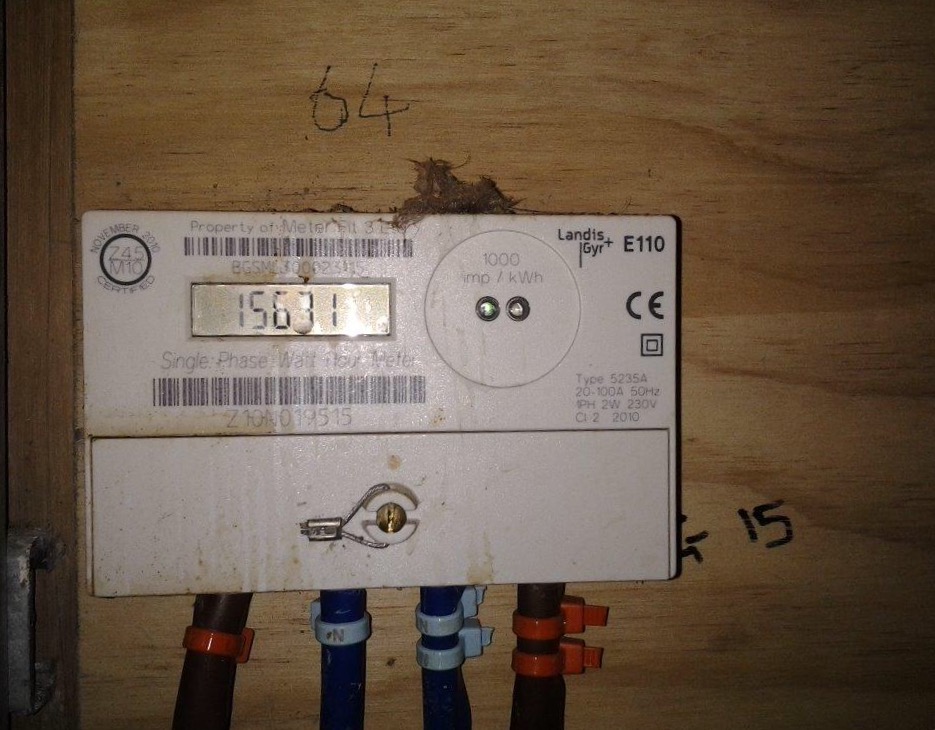 British Gas Electric Meter. Showing the correct meter number
On I contacted the ombudsman (as above) so far I've had no acknowledge of my complaint, as such my assertion of them being useless stands.
UPDATE
I got Letter 2017-05-08
I attempted to call the 0800 number and was promptly cutoff by the automated system. So i've given up.
UPDATE
On I contacted the ombudsman (as above) with the help of EHU the ombudsman responded. The person I was complaining about looked at the complaint! And surprise surprise found nothing wrong.
UPDATE
I got Call Us 2017-05-17. I initially believed this was due to Leaving these cowboys and was the final bill for my current address. However it's for BR2 9FN!
Despite the several complaints, the Ombudsman and EHU being involved British Gas feel Harassing a disabled man is ok.
UPDATE
After a very unhelpful call with British Gas I was told several times I did not have an open complaint!
Yet found it with the address, not the Customer Ref Number.
When asked why I left British Gas, it's due to this level of incompetence.
UPDATE
British Gas will not longer discuss the complaint with me
My aim now is to go public. All correspondents will be published.
UPDATE
UK Energy (the people who wrote the code) have give me Billing code scenarios
This document is weak it explains nothing. However…
7. I have received an unusually high bill. What should I do?

There are many reasons why your bill is higher than expected.
This could be due to a change of use, or your supplier receiving actual readings which are higher than their previous estimated readings. Remember there are significant changes in energy usage between summer and winter, which can result in your bills being higher than expected as can a change in your circumstances. Check that the details on your bill are the same as the details on your meters and that you have accurate meter readings. If you are still concerned, contact your supplier
Again had British Gas followed 3.5 of the code 3.5 Your supplier will make sure that they check unusually high or low bills before they send them out. and checked with me about the 7535 kWH usage this issue would have been discovered in August 2016
UPDATE
If their was a theme to this saga it's that British Gas are incompetent
Email 2017-6-07 from this we see.
This matter has already been before the Energy Ombudsman, and you did not accept their decision. For the avoidance of doubt, back billing credit was already applied to the account in the amount of £620.17, leaving a small balance of ₤24.07 for you to pay. As per our earlier telephone conversation, I confirm I wrote off that amount as a gesture of goodwill leaving the account with a nil balance.
So the ₤24.07 has been written off. We also see they have provided a bill detailing how this ₤24.07 was reached.
Statement 2017 04 27
& both have an estimated reading of 15035
The reading of 15035 would have been from the wrong meter serial number.
Old





The 15035 on the wrong meter
New





The 15035 on the new meter
The reading of 15035 has never been explained
It appears on the bill dateed so must be from when the meters where crossed.
UPDATE
My MP catherine west www.catherinewest.org.uk is a star! I got the following… Letter 2017-06-16 – From MP
As you can see British Gas repeat the lie that this has been to the Energy Ombudsman. They give some dates The Energy Ombudsman Ruled on The bill (with the ₤24.07 debt) was produced on and not given to me until
So this bill has not been referred to the Energy Ombudsman.
We now have… British Gas – OS Complaint 5 – 2017-06-19
The crossed meter issue has been investigated by the Energy Ombudsman this bill produced on has not been looked at by The Energy Ombudsman and Citizen Advice Extra Help Unit.
The Back Billing Code was applied to my account and the bill of was the result.

This Bill resulted in a £24 debt on the Account. British Gas have written off this debt.

If we look at the statement, on page 2 under section 4. We can see two readings
1 Sep 2016 – we read your meter = 15035 (Meter S/N Z10N019509)
Electricity_Bill_22Sep16

1 Sep 2016 – we estimated your final meter reading = 15035 (Meter S/N Z10N109515)
Statement 2017 04 27

Now 15035 is the same final reading you gave on both bills.

I did not approach British Gas about the possible cross meter until I received the bill dated 22nd September 2016. So they are using the wrong meter reading again.

You have never explained where 15035 came from and why it's on both bills.

British Gas are refusing to Engage on this say I need to ask the Ombudsman or seek private legal help.
As a disabled man on benefits, legal action is so far out my reach it's funny.

Daniel McMorrow