So I applied for ESA weeks ago, at this point Bromley sent me a nice letter saying I could get Housing Benefit & Council Tax Benefit…
I applied…Bromley sent me a lovely 19! Page application booklet. After 2 hours of trying to fill this in with my mother on 9th June 2015 – we managed two and half pages.
On 16 June 2015 13:35:19 BST I sent Benefits@bromley.gov.uk a lovely email…
Hello,
I just received my housing/council tax form – can I do this online or by phone. I can't write – getting someone to help will delay my application more.
Daniel McMorrow
I got a response…
Thank you for your Housing Benefit query of which we confirm receipt.
Your query has been forwarded to a Customer Service Officer and will be worked on within the next 10 working days.
Please do not reply to this email as responses will go to an unmonitored mailbox. Please direct your queries to: – Benefits@bromley.gov.uk
I not sure of the logic behind waiting 10 days but.
On 13 July 2015 sent Benefits@bromley.gov.uk a lovely email… (Starting to lose my cool)
Hello,
The delay in this response is leaving me at a finical risk. I would remind you thanking account of my disability is a requirement of equality act and Public Sector Equality Duty.
If this continues much longer I'll be forced to make a formal complaint.
Daniel
So after a total waste of time with Benefits@bromley.gov.uk, I turned to someone else.
On
This is beyond stupid. I claimed HB but due to how a settlement with work was reached I had to remove myself from this benefit. I'm now back in a position to claim HB again. However, Bromley Council have been so unhelpful in this it's untrue!
I'll be making a very public formal complaint and applying for
Discretionary housing payments (DHP) due to the delay caused by Bromley.
All I need is clarification that https://www.gov.uk/government/publications/housing-benefit-claim-form are accepted by Bromley. This should be a 30second enquiry it should not take over a month.
Daniel
On , I got a letter from Bromley saying…
You were recently requested to supply further information with regard to your claim for Housing Benefit/Council Tax Support
My claim has not been made!
After a 46 minute wait, I spoke to a fantastic lady at Bromley Benefits. Who firstly said there was no digital version of the form!
When I asked HCTB1 she change her response to
Bromley don't accept that.
By not accommodating my disability Bromley have broken The Equality Act & Public Sector Equality Duty…
The annoying thing is HCTB1 was accepted as I have my first form completed HCTB1
My formal complaint Bromley Complaint
UPDATE
A 30 second phone call from Chris Loft – Answered my question!
UPDATE
Received a Response to my formal complaint. Letter 03-08-2015
In response to your initial enquiry, unfortunately, we are unable to accept a claim form which has been submitted online due to the requirement of a signature.
At what point did I say I wanted to submit it online?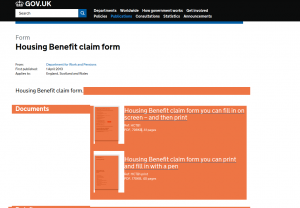 The Download link is quite clear how to use the form!