In my first post I remarked on the email about strikes, Here. This email want our help!
Like you, I care about Britain's future.
Then fire Mr Cameron
I want to live in a country where our children get the best education, hardworking txapayers can get on in life, and pensioners are well looked after in retirement.
Lets take this point-by-point.
Education. – You raised fees. Scrapped Disabled Students Allowance (DSA)

© https://www.facebook.com/indextwo

taxpayers – Yes I'm sure Gary Barlow agrees
pensioners – My nan recently broke her hip had to wait over 3 hours for 999!
That's why I joined Team2015 – and why I'm asking you to volunteer today.
I'm more likely to put hot pins in my eyes
The next election is too important for any of us to sit on the sidelines. We need to keep going with the long-term economic plan that is securing a better future for Britain. We cannot let Labour put the recovery, and everything we've achieved, at risk.
Team2015 is at the heart of our campaign to secure a Conservative majority. Volunteers like me are delivering leaflets and speaking to voters in the seats that will decide the next election – playing our part in securing Britain's future.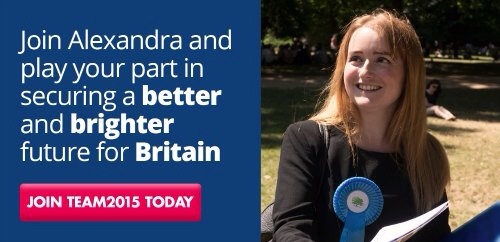 I love being a part of Team2015 and doing my bit to make sure Britain never goes back to Labour's way of more spending, more taxes, and more debt than future generations can ever hope to pay off.
Join Team2015 today – and let's win the next election and secure that better future for Britain.
Thanks,
Alexandra
I hope Alexandra never has to use the NHS, it wont exist if they win.
Team2015 Volunteer