Before you read this please understand I'm not legally trained, I have no professional legal know how… These are my limited understanding.
Tories block plan to look at the impact of their disability benefit cuts
In the above article it's explained…
The House of Lords had previously blocked a Government plan to cut Employment and Support Allowance – and said ministers should first conduct an impact assessment into what the cuts' effects would be.
…and then…
But on Wednesday Tory MPs overruled the peers, voting to push ahead with the cuts without looking at what their effect might be.
Before I discuss the cuts a side note…
The Minister for Disabled People – Parliamentary Under Secretary of State for Disabled People
We'd like to think
Parliamentary Under Secretary of State for Disabled People
would have an insight into the effects of disability or at least be on the side of disabled people as a parliamentary advocate. Wełl he's a
tit
– Bad Luck.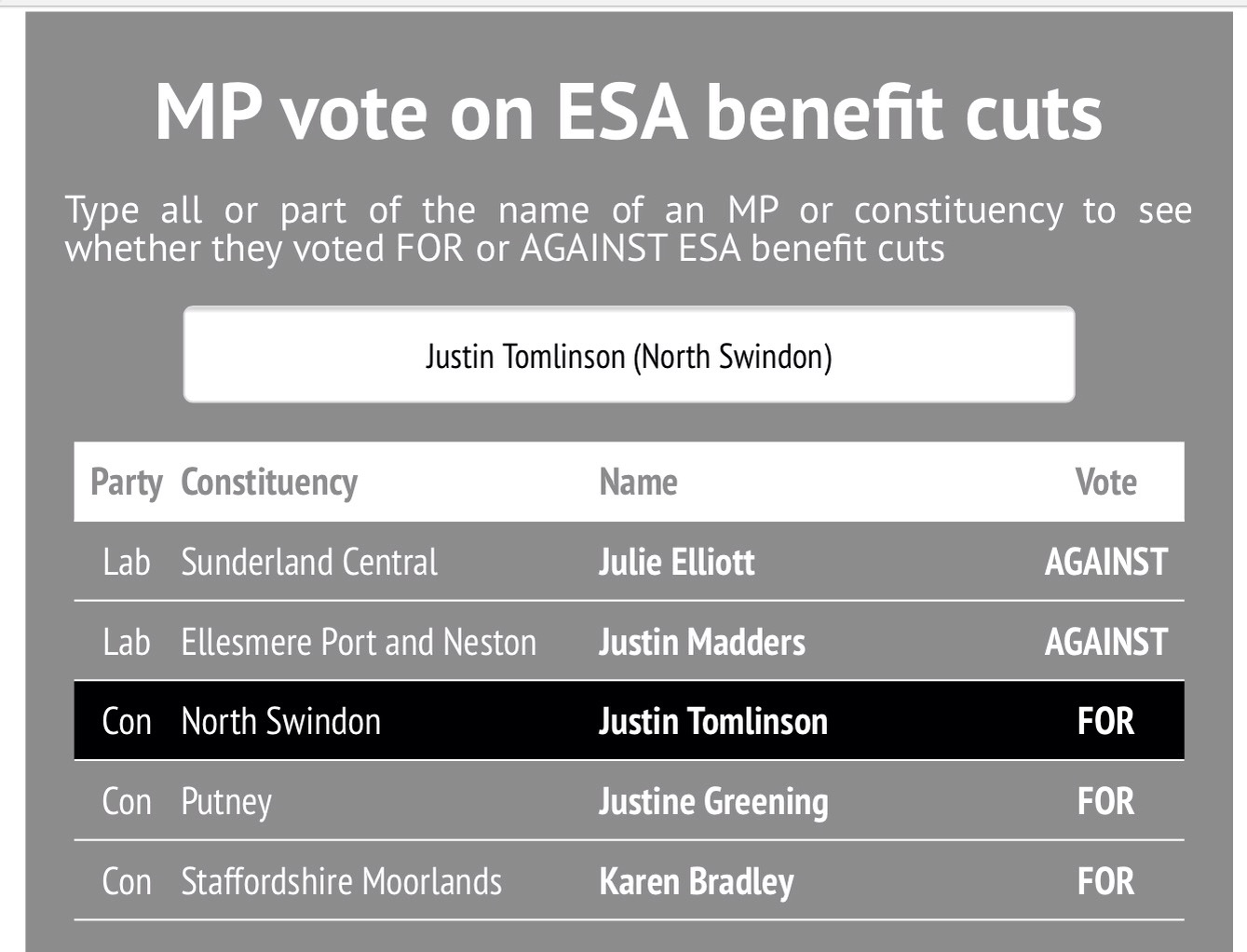 I have more to say on Minister for Disabled People – Parliamentary Under Secretary of State for Disabled People here
EQUALITY ACT 2010: PUBLIC SECTOR EQUALITY DUTY WHAT DO I NEED TO KNOW? A QUICK START GUIDE FOR PUBLIC SECTOR ORGANISATIONS
The Public Sector Equality Duty (PSED) is a part of Equality Act 2010.
On page 3 of the above document it say…
The Equality Duty is a duty on public bodies and others carrying out public functions.
It ensures that public bodies consider the needs of all individuals in their day to day work – in shaping policy, in delivering services, and in relation to their own employees.The new Equality Duty supports good decision making
– it encourages public bodies to understand how different people will be affected by their activities so that policies and services are appropriate and accessible to all and meet different people's needs. By understanding the effect of their activities on different people, and how inclusive public services can support and open up people's opportunities, public bodies are better placed to deliver policies and services that are efficient and effective. The Equality Duty therefore helps public bodies to deliver the Government's overall objectives for public services.
The Equality Duty is set out in section 149 of the Act.
It could be argued that by not doing a Impact Assessment, the government are failing to adhere to PSED.
And they are choosing not to do an Impact Assessment.
UPDATE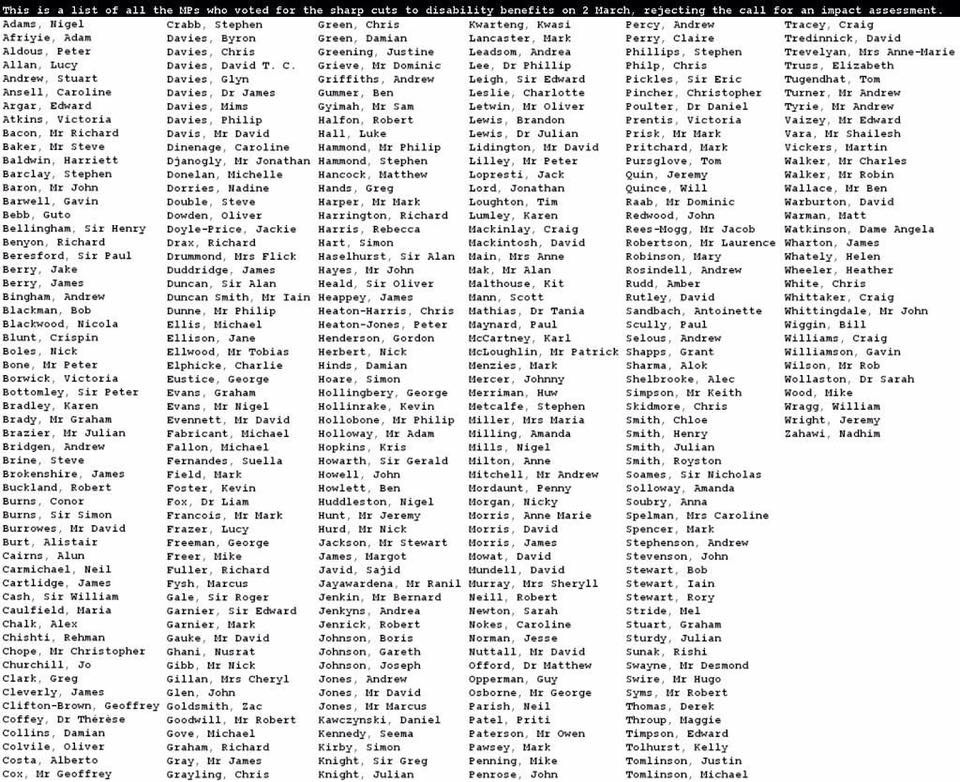 UPDATE 2 –
Campaign: Force disability charities to sever links with MPs who voted for #ESACut
UPDATE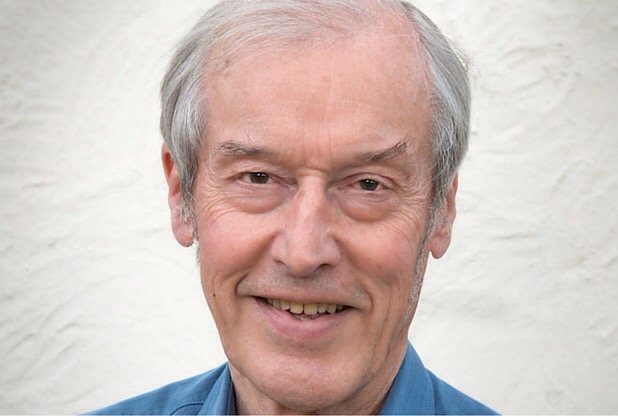 MP reports 'vicious' threat to police after vote to cut disability benefits
It would be wrong to publish a MPs vote on a very public subject as Disabilit Benefits, just like cutting rates of big business at the expense of the disabled.
Firstly it's worth noting MPs are elected to represent the views of their constituents. Mr Cameron is on record advocating "transparency"
Secondly our views (and him) are protected in the Human Rights Act as free speech.
Thirdly (most important) You could argue this is "wasting police time" no law was broken at best he could have reported the Tweet or Facebook Post.
UPDATE
Harrogate MP defends voting for £30-a-week disability benefit cut
Andrew Jones MP has argued that his decision to vote in favour of a £30-a-week cut to disability benefits will help claimants get back into work.
If you're in WRAG & experience of Access to Work (AtW) please contact me! (All comments will be totally anonymous)
When I asked Access to Work for help I was constandly told I'm not ellagable as I get ESA the offical rules however state…
not be getting Employment Support Allowance/Incapacity Benefit
and/or NI credits only (or will cease to claim whilst in work) unless the
customer is about to start a Work Trial. This includes Severe
Disablement Allowance and Income Support (where paid as a result
of incapacity for work). Unless the customer is in the Permitted Work
Higher Level, Permitted Work (PCA exempt) or Supported Permitted
Work and…
Page 5 Atw Staff Guide
The important part is or will cease to claim whilst in work
So the Flagship scheme to assist Disabled People into work is ruled out if you get ESA
So Andrew Jones what help are you referring to?
UPDATE
Parkinson's sufferers 'able to work', says the new Work and Pensions Secretary Stephen Crabb
People with brain tumours, motor neurone disease, Parkinson's disease and a number of other conditions are "able to work", new work and pensions secretary Stephen Crabb has said.
You would think as an MP you would be very cautious of your written comments, even with "The Right to be Foggton" the Internet can be very unforgiving!
Writing bold, unsubstantiated statements on your Facebook wall is all kinds of stupid!
UPDATE
disability cuts and admit they "forgot" human impact of changes
I am absolutely clear that a compassionate and fair welfare system should not just be about numbers. Behind every statistic is a human being – and perhaps sometimes in Government we forget that.
Total utter rubbish! The Lords recommend an Impact Assessment and they ignored them. This is a party trying to look as if they care by admitting a "mistake"
As far as I'm aware Impact Assessment have been requested for all major cuts.