They are bureaucratic and ultimately unhelpful organization.
The cowboys
They caused this nightmare and are true idiots. They won't take responsibility for it.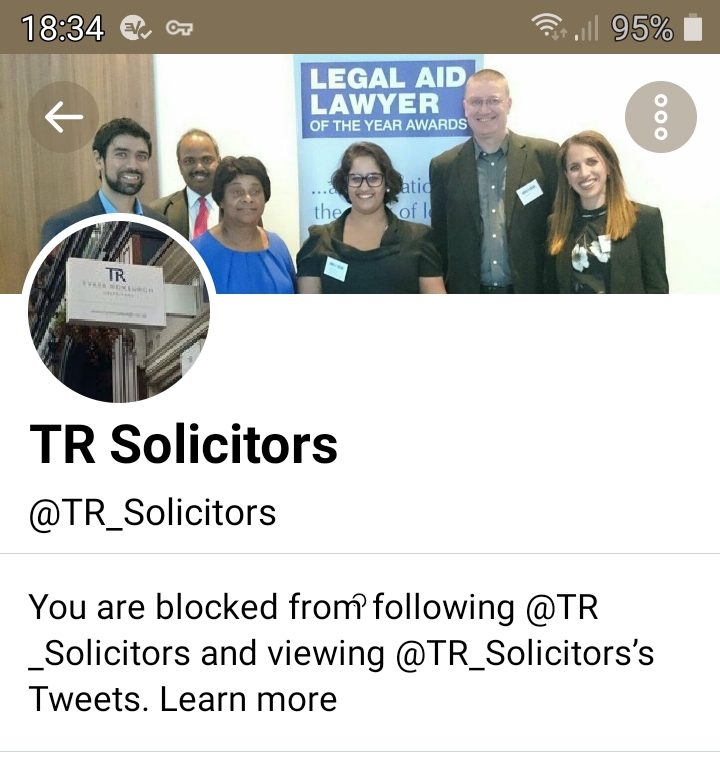 is a very bad model. The aim is to help with legal fees so justice can be available to everyone. However you apply for legal aid, Lawyers do work on your case. If you are
assessed
by the
as not being eligible you become liable for the Costs of your lawyer.
If like me you're
assessed
but have to contribute and had not been informed properly of this, you are still liable.
said …
This issue is that the firm never adequately explained that he would make a contribution in accordance with the guidance. The letters warning about the contribution were sent after the retainer ended
&
It is, therefore, my decision that the firm's handling of Mr McMorrow's Legal Aid has been poor
Yet the
found nothing wrong.
The invoice was for work done between and .
–
Submitted a SAR Request.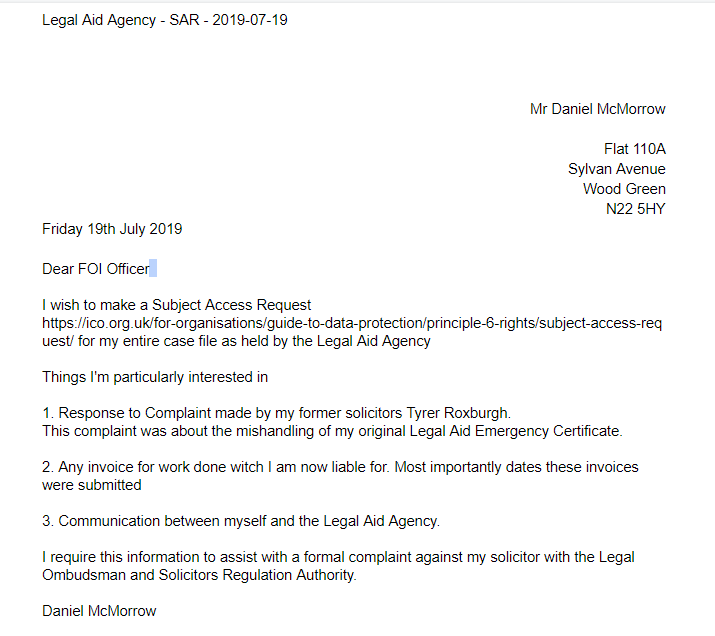 –
SAR Response of 13 files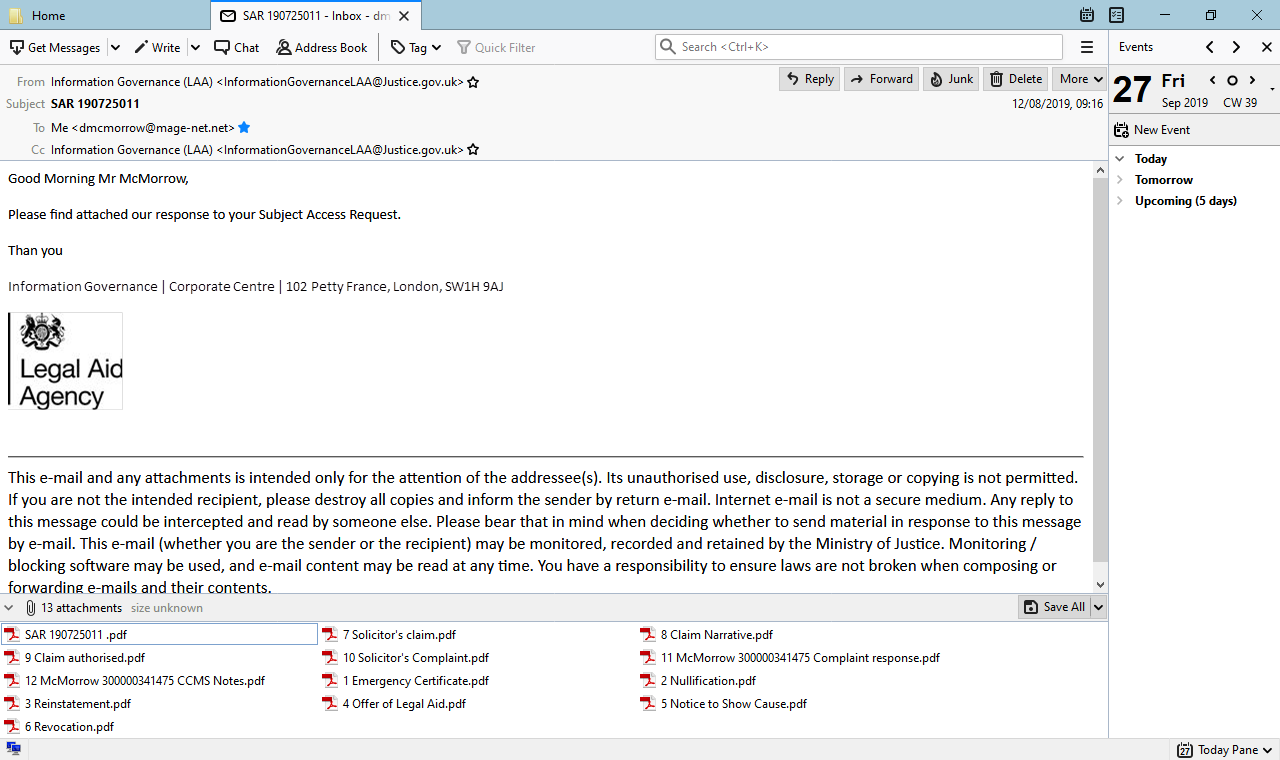 Stage One Formal Complaint.
–
Response from Costs Draft Person Ms E Harper
Thank you for your letter (undated). The work undertaken was clearly set out in the bill sent to you on 18th July 2018. Any query regarding the bill should have been raised within 21 days of it being sent to you as clearly set out in the letter sent, however we received no objections. When you did not accept the offer of Legal Aid work relating to your matter, work was discontinued. We trust this answers your query. Any questions relating to the payment of money due should be directed to the as our involvement in this matter has now concluded.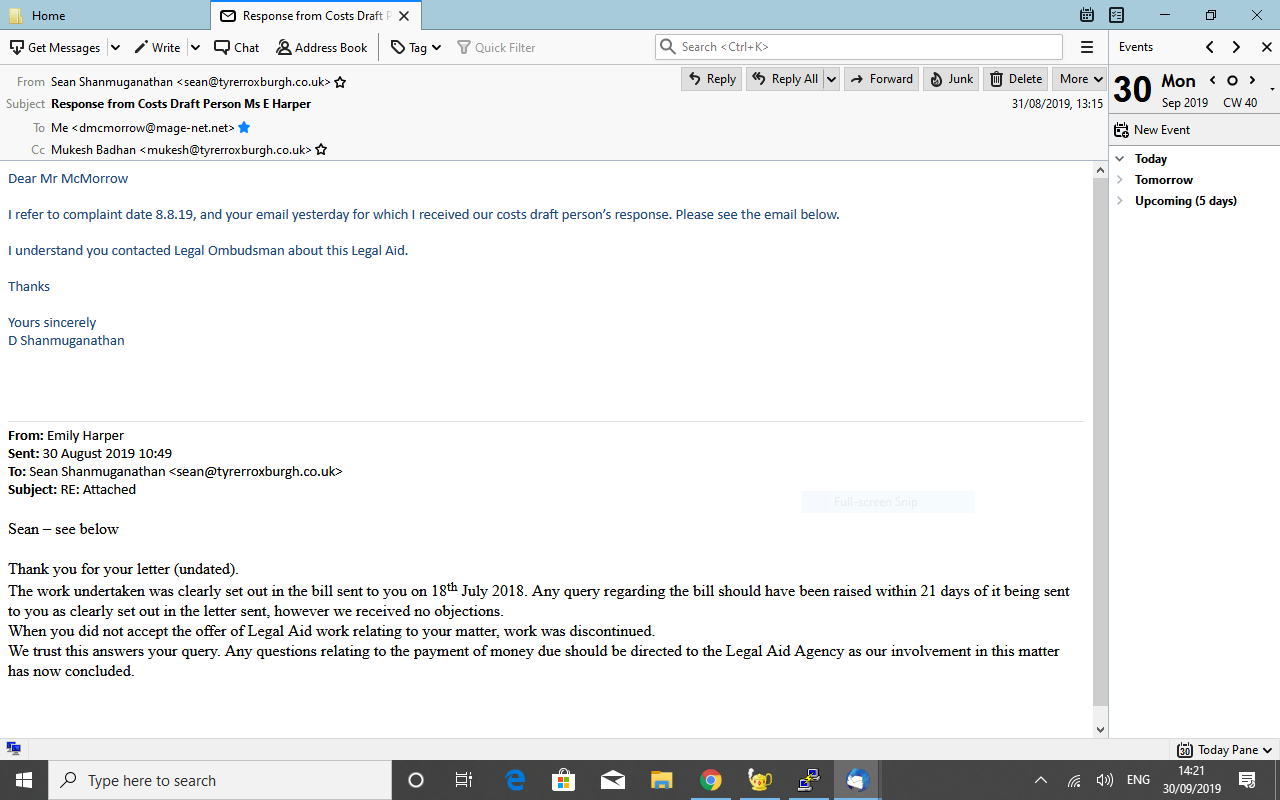 So On I fire your firm as I have lost faith in your ability. You issue me a bill acknowledgment
147 days
later on and finaly submit to the
on .
250 days
from submitting to myself
We sent the response, we just don't know-how.
We've not sent the response, it's with the complaints team.
The below extracts from the response that highlight the incompetence for the
.
As you are aware, your emergency cover was date limited to the period and The date limit was imposed because your solicitors did not submit a substantive amendment when required to do so. Following a 'reinstate certificate request', submitted by the solicitor on , we reopened the certificate and the required substantive amendment was provided.
A final bill was then submitted by your solicitor . Please note, there is no time limitation for providers to submit a final bill. The work they successfully claimed for was undertaken between the dates of your emergency cover only. We did not pay the solicitor for any work outside of these dates.
Following the payment of the final bill, we then referred this matter to our debt recovery unit (as explained in your original offer letter). At that stage, you were informed that your solicitor's claim had been paid and you would have to set up a payment plan to address the liability.
So solicitor bills 3 years after the fact, and you expect me to pay?
With reference to your Subject Access Request:
You have asked why you were not provided with copies of your telephone calls after you were informed that all calls to the agency are recorded? Copies of your calls were not requested in your SAR correspondence so were not provided in response.
See comment above.
Stage two Formal Complaint.
First letter about this debt.
I got an SMS asking me to contact LCS. They have recieved my stage two formal complaint and ICS should be suspended.
An Extremaly early respons to my Stage Two Complaint. This was not due till
Subject Access Request I understand that in your Subject Access Request you asked for "Communication between myself and the Legal Aid Agency". Our Information Governance team confirmed that the response included all the relevant legal aid documents and the notes taken to document the phone calls you made to the Agency. If you require further assistance and/or full details of the phone calls a further Subject Access Request can be submitted in relation to this specific information.
So two points.
1. Notes are notes, they are not a true representation of a recorded phone calls.
2. Secondly these notes use many many abbreviations, as such fails to complay with the leglasation.
Do we have to explain the contents of the information we send to the individual?
Tyrer Roxburgh then contacted the Agency explaining the reasons for the failure to submit the substantive amendment. Their representations were accepted and the certificate was reinstated to allow them to submit the substantive amendment.
But no
substantive amendment
was disclosed in my SAR response of so having it and not disclosing is a breach of GDPR.
As my colleague explained in the response to your 1st tier complaint, there is no time limit in relation to legal aid providers submitting bills for the work completed under a legal aid certificate. I am unable to comment as to whether Tyrer Roxburgh provided you with details of the bill they were to submit to the Agency for payment. The Agency do not forward claims received to the client for approval as this is a matter between the provider and the client.
1.6: Revocation of the certificate
Civil Finance Electronic Handbook
When a certificate is revoked the client must be given 21 days to consider the bill and make any representations, as they have a financial interest in the costs.

Therefore, if the certificate was revoked either less than 21 days before or any time after the bill has been submitted (to us for assessed bills or to the court for bills where they are the assessing body), the claim will be rejected unless there is documentation confirming the client has seen a copy of the bill and has no objections. This will be a priority reject unless there is another valid reject reason.

For assessed bills the date the Claim1/1A certification is signed should be used to determine whether the provider would have had the opportunity to send the client the bill and allow 21 days to pass. For taxed bills, the financial interest certification at the back of the bill will need to be completed to determine whether the client has been sent a copy of the bill.

This will not apply where the client already had a financial interest by virtue of the statutory charge applying or contributions paid, as the client should already have been provided with the bill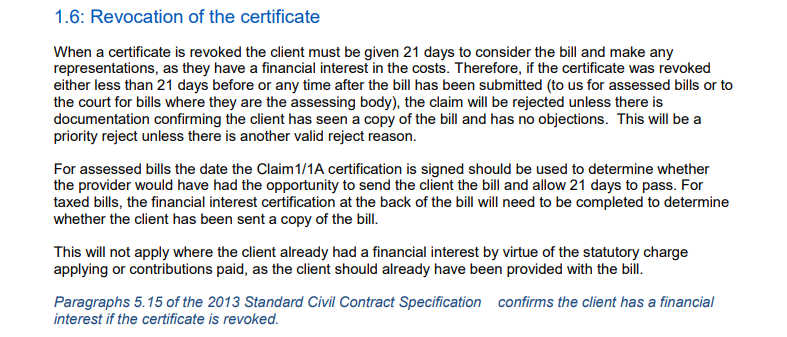 From this extract I notice Claim1/1A was missing in my SAR response of so having it and not disclosing is a breach of GDPR.. A quick google gave
Claim1
we find only pages 5 & 6 had been discloused!
–
Our complaints process has now been exhausted.
Dear Mr. McMorrow, Our complaints process has now been exhausted. If you are dissatisifed with this response and wish to pursue the matter further then you have the right to make a complaint to the

Parliamentary and Health Service (PHSO)

through your local Member of Parliament. The Ombudsman is a free service; it makes final decisions on complaints that have not been capable of being resolved by a government department or Agency. By law, the Ombudsman service can only look at complaints about UK government departments and agencies if they have been referred by an MP. There is further information available on the

Parliamentary and Health Service (PHSO)

website www.ombudsman.org.uk/making-complaint It is important that you take the matter to the MP as soon as you receive our final response to your complaint, as there are time limits for the Ombudsman service to look into complaints. If you don't know who your local MP is, go to findyourmp.parliament.uk for more information, or contact the House of Commons Information Office on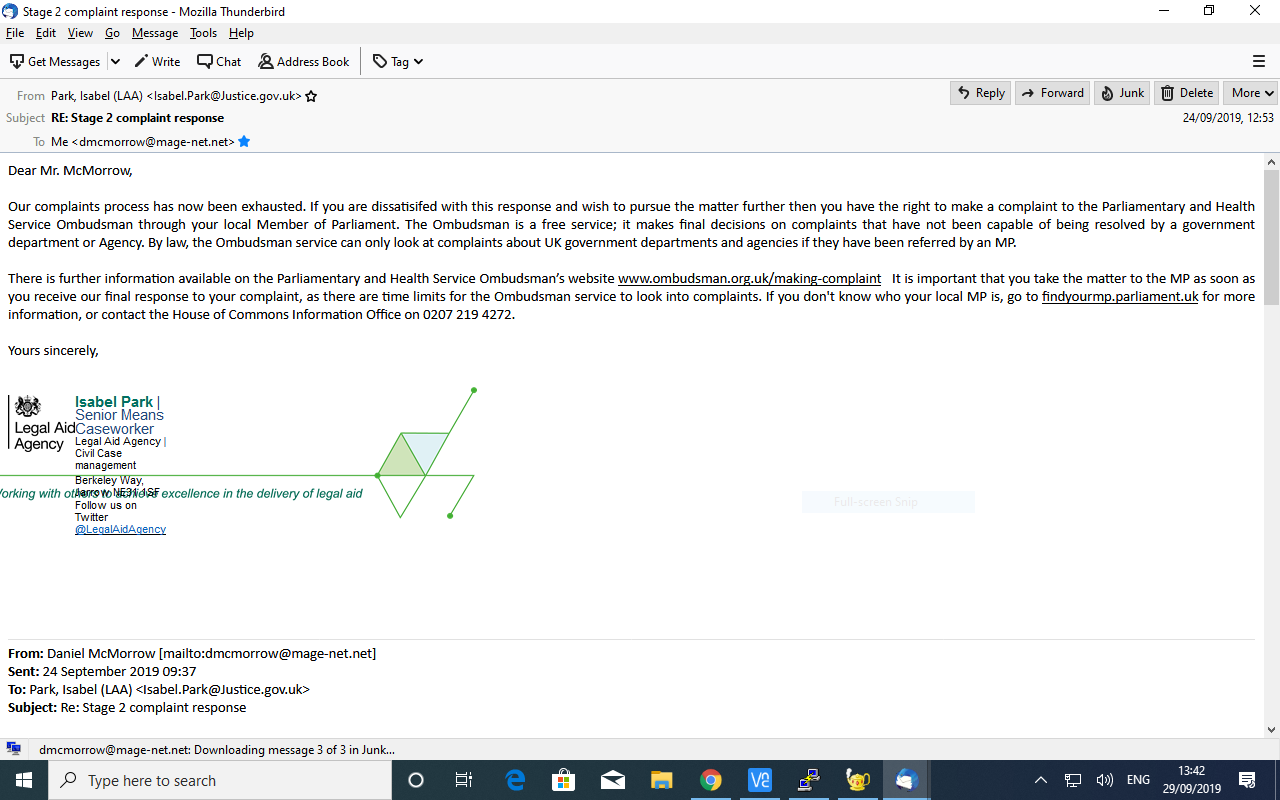 I am aware of the

Parliamentary and Health Service (PHSO)

. I am also aware they are publicly funded Investigation into you would cost and waste investigation time. I'm quite happy to make a referral to them and the ICO. I will also inform my PM I will be submitting this as evidence. I will also be referring to the Legal Aid Finance Electronic Handbook page 17/ 1.6 kind of makes your response mute. You ignored my warnings to the help desk about paying them. You have ignored the legal ombudsman and the email of 2nd Jan 2018
Phoned the MOJ about the poor service for Legal Aid Agency
– Can you advise what files you believe are missing?
I currently have an outstanding debt so if I got to the

Information Commissioner's Office (ICO)

this debt need to be paused You have given me notes about phone calls. When I asked for communication. The notes are not even transcripts but a summary. They also fail as they use acronyms that are not explained. A breach. You provided me "7 Solicitor's claim.pdf" this appears to be only part of civ claim 1 As I am using my SAR to make a complaint against my lawyer for a bill Claim1 is important. This complaint is for the Legal Ombudsman and Solicitors Regulation Authority. I am happy to inform them you won't cooperate. You refer in my complaint response to "substantive amendment" But no substantive amendment was disclosed in my SAR response of 12th August 2019 so having it and not disclosing is a breach of GDPR.. Mr McMorrow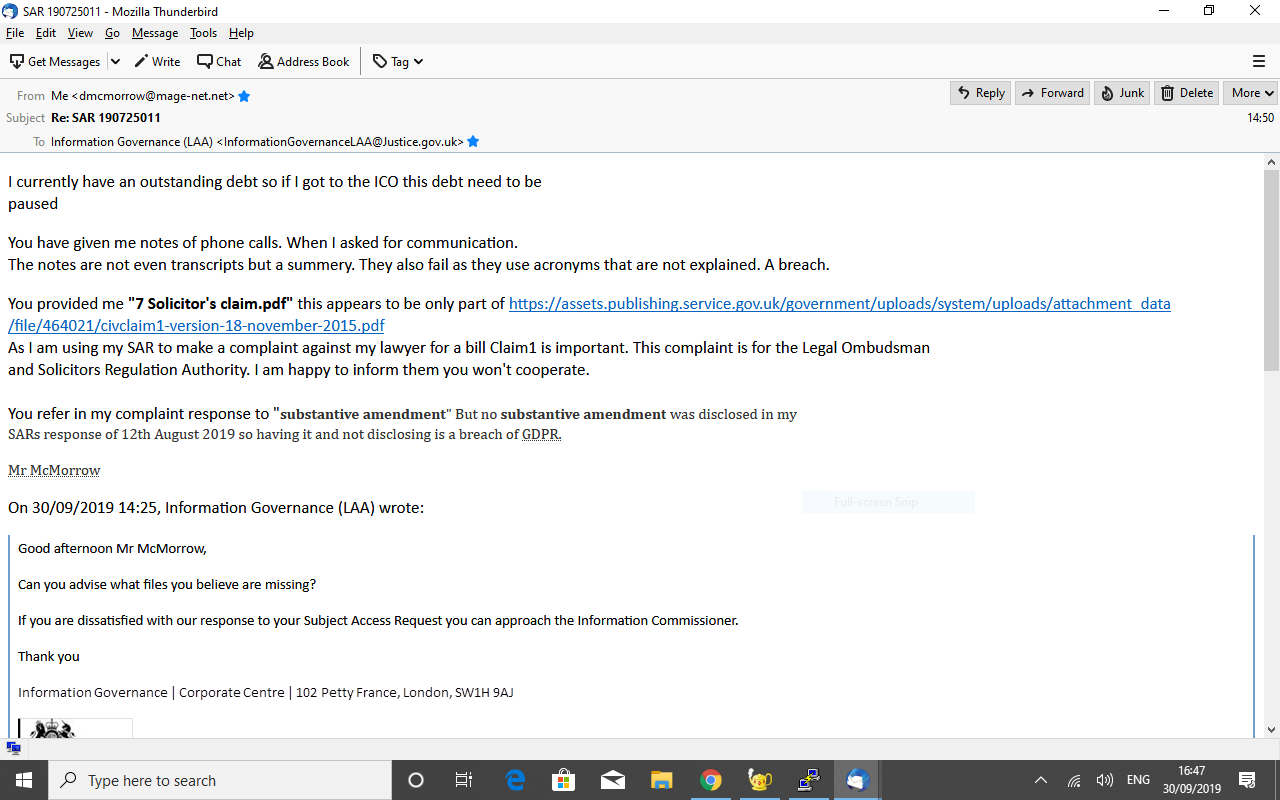 Gave up waiting for
have made a Formal Complaint to
Information Commissioner's Office (ICO)
Submitted my formal complaint, with a valid reason to expedite.
7 Week Wait
Dear Mr McMorrow, Thank you for your request for your case to be escalated. All the complaints we receive are important to us, and we deal with them in strict date order to be fair to all our customers. We understand the matters you have raised are of real importance to you and we are working hard to managing our caseload to reduce the waiting time. As your complaint came into the ICO on , we would expect to be able to allocate your case in about 7 weeks' time, at the earliest. Please note that we cannot look at your case without the following (see below). If you have not already provided it, please send it to us so it can be added to your case in readiness for when it is allocated. A copy of the subject access request in question; Copies of correspondences you have exchanged, including any responses received from the data controller. You can forward your response to our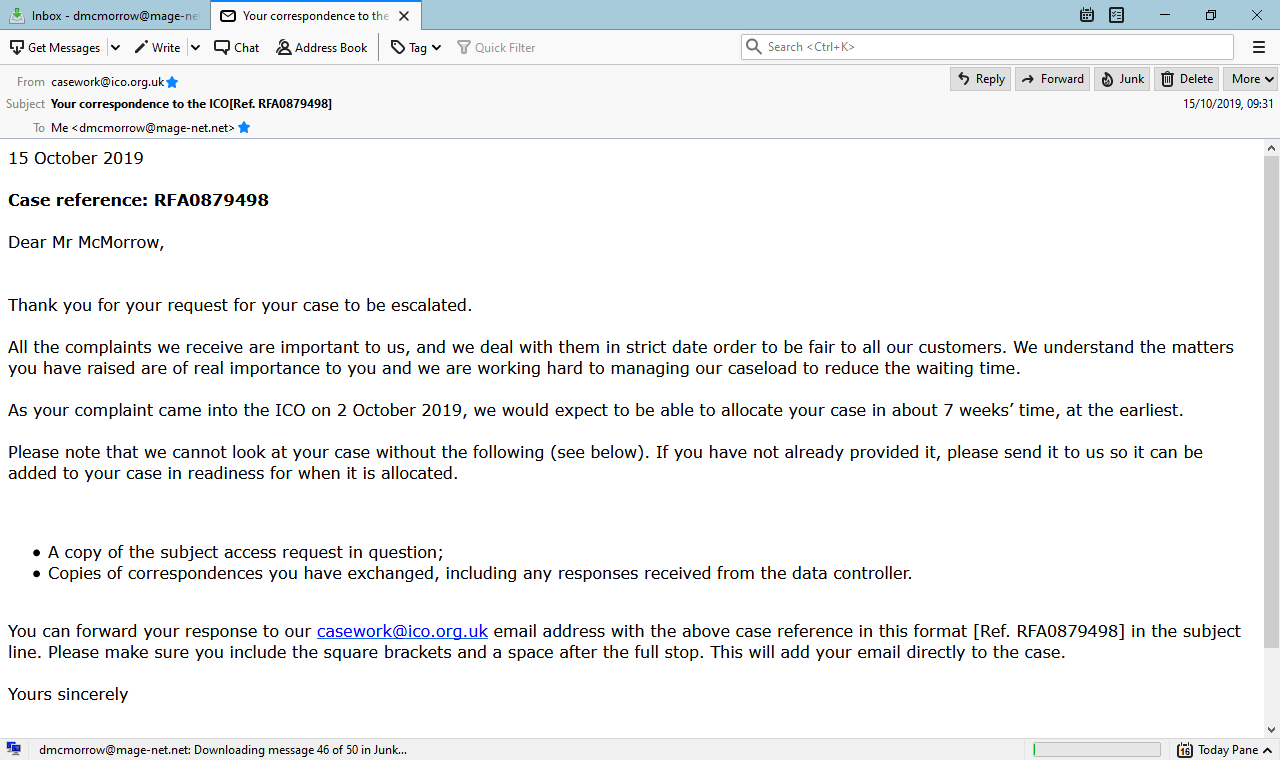 Submitted my second complaint to
Phoned the
to check they had my complaint. As I was given no notification. I was told it could be
12
weeks! before it get allocated.
so you may wish to contact a different MP to ask they assist you.
Yet the auto reply form my MP states…
Due to a strict Parliamentary protocol, can only take up your case or respond to your enquiry if you live in the constituency. Please ensure you have included your full postal address with your postcode within your email or resend your email with this information if necessary. Catherine cannot take up your case without this information.
So…
@UKParliament @PHSOmbudsman are you allowed to ask another MP for help?

— Daniel McMorrow (@danielmcmorrow) November 1, 2019
Also…
Please note that Parliament will be dissolved from until after the general election on . During this period, the law does not allow us to accept new complaints about UK government departments and other public organisations.
I sware to god if this complaint is not done by I will explode!