About as effective as a chocolate teapot.
They are bureaucratic and ultimately unhelpful organization.
Review
Trustpilot reviews of LeO.

I sent…
Couple of WEEKS? Are you joking? This complaint was made in October 2019. The LeO seam to be happy to allow as many delays as possible. The 12 week General Enquiry team should have already seen new evidence is presented and should have put a mute on 5.7 (d) claims.
Mr McMorrow
I received
Dear McMorrow
The matter has been progressed to the ombudsman pot. This will be picked up by an ombudsman to make a decision.
I am unable to give you a specific time but it could be within the next couple of weeks.
Kind Regards
On

The caseworker sent me The Terms of Investigation and said
As the agreed outcome wasn't fulfilled and you had new information, these complaints will the basis of my investigation.
So accepting of a Scheme Rule 5.7 (d) seams to be a contriduction.

On a deadline was set for today. So I ask?
You've had my response. I assume payment evidence has been presented. When will decision be made ?
I received…
Dear Mr McMorrow
Further to the firm's email and their opinion that the complaint has been resolved, please find letter attached
In addition, in respect of the questions asked, we do not have powers over the Legal Aid Agency and we would not investigate a complaint between you and the Legal Aid Agency.
Please respond by .

Kind Regards
Israr Nabi
Attached Letter
We can see from the attached letter. Mr Nabi mis-quotes Scheme Rules 5.7 (d)
it should read
The complainant has previously complained about the same issue to the Legal Ombudsman or a predecessor
complaints scheme (unless the ombudsman considers that
material new evidence, likely to affect the outcome, only
became available to the complainant afterwards); or
I received…
Dear Mr McMorrow
Please accept my apologies, the information in my previous email was not correct.
Before we can deal with a Stage 1 complaint about the investigators failure to respond to your questions, it will need to be first dealt with by Mr Nabi's team leader.

I have passed the complaint to them and they will respond to you within 10 days.
This is very confusing. the complaint was made on . We then have your so-called 5-day response. We then have the 10-day response from the Manager. Mr Nabbi should have informed his manage on so 10 DAYS from then? so
I received…
I have also spoken to Mr Nabi about the questions that were not answered and he acknowledges that he agreed to, but did not. He asked me to pass on his apologies and he will respond to you directly on Monday.
So below my former lawyers have stated the had made payment.
I have provided my bank statement to the LeO that don't support their assertion
Dear Mr McMorrow
I just wanted to provide you with an update.
I am currently waiting on evidence from the firm in respect of the additional concerns you have raised. They have initially responded to say that the remedy previously agreed had been paid. In this instance, i have asked them to provide evidence. While I understand you are deeply dissatisfied with how we handled the first investigation in to your complaint about the firm, and also our own service complaint procedure, I have not been involved in either of those matters. As I see it, there a still significant matters in dispute between you and the firm and my focus and priority is to get to the bottom of that and bring about a final resolution, enabling you to move on from this matter.
I will be in touch with you shortly. Kind Regards
Israr Nabi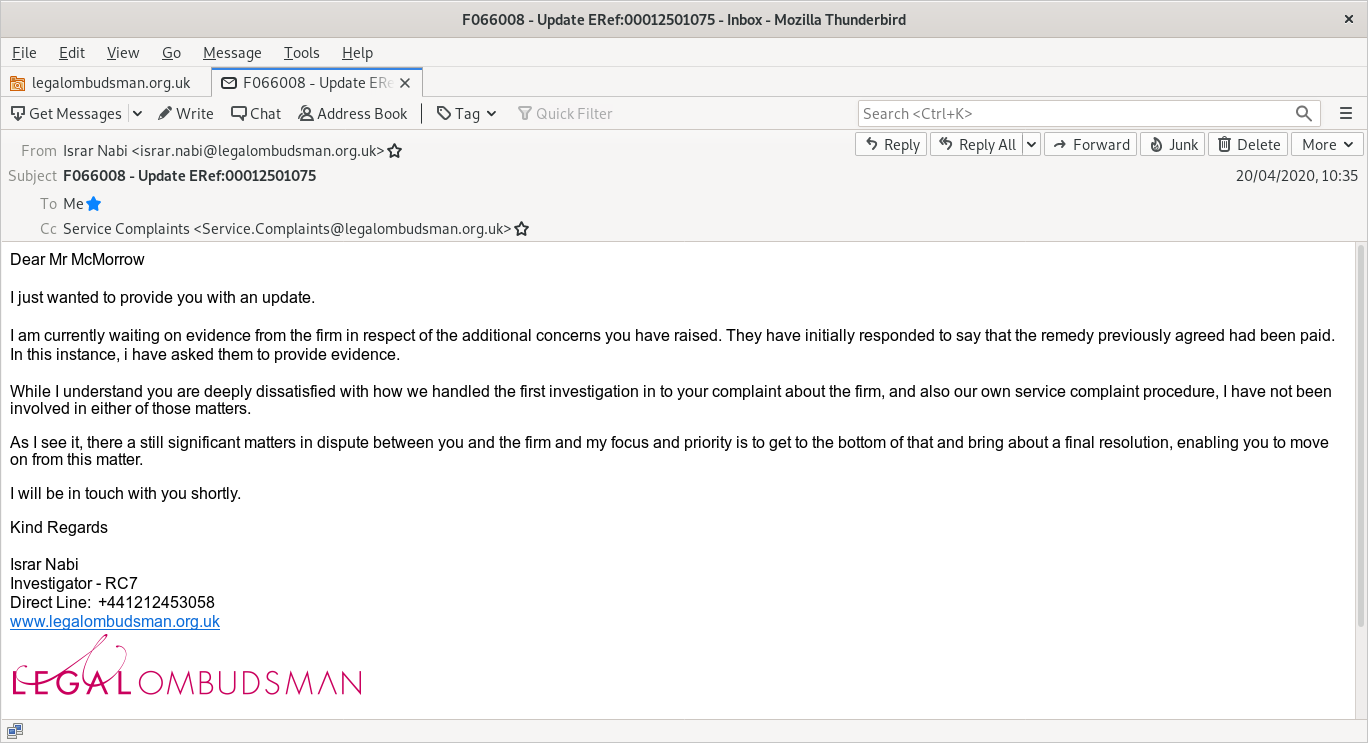 So we agree to use the previous investigation terms.
At the time evidence was supplied by my former solicitors. So if new evidence is submitted then serious questions need to be asked.
Very sorry for missing this question. Yes, we do monitor performance at the Legal Ombudsman. We are unable to intervene in individual cases, but complaints do help inform our monitoring. If you would like to share more information please email contactus@legalservicesboard.org.uk.

— Legal Services Board (@LSB_EngandWal) April 18, 2020
So LSB apperantly monitor The LeO performance.
SERVICE COMPLAINT ADJUDICATOR REPORT 2018-19 Page 2
There were a total of 183 service complaints received by LeO at Stage 1 of the service
complaints procedure; 45 were referred to Stage 2 for consideration by a senior manager, and 28 were referred to me. I have investigated 25 complaints (one was open at the start of the year, one was withdrawn, and three were open at the end of the year). The table below provides information about the number of service complaints received at each stage over the last four years.
So based on these statistics show the LSB are not holding the LeO to any standards.
I received the outcome of my Service Level Complaint. Stage One.
Can you hurt yourself, laughing?.
I asked Question 2.
I asked Question 1.
I received…
Dear Mr McMorrow Further to our last conversation, please find letter attached. As discussed, my investigation will be into the five previous complaints our offices looked into. As the agreed outcome wasn't fulfilled and you had new information, these complaints will the basis of my investigation. I understand that the new information you received revolves around complaints 1 and 5. Please review my letter attached and confirm by 20 March 2020. Kind Regards Israr Nabi
Dear Mr McMorrow,
Thank you for your email and your time over the phone yesterday.
As discussed over the phone, I appreciate that our deadline of 8 April 2020 to respond to your service complaint at the first stage of our process, is outside of the one-month timeframe listed on our website. Please accept my sincere apologies regarding this, I can confirm that as an organisation we are putting steps in place to reduce the length of time it is taking us to respond.
Prior to starting the stage one service complaint investigation, either myself or an alternate Customer Experience Specialist, will contact you to confirm the complaints we are able to consider. I am aware that we previously completed a service complaint investigation for you, under reference SC-0400. Please be aware that we will be unable to reconsider any service complaints that we considered within that investigation, we will however ensure that we take into account the overall effect of any failings identified within both investigations.
I can confirm that whilst the service complaint is pending, I have liaised with the investigator, Mr Nabi, who has confirmed that they will contact you to ensure they have a full understanding of your complaint against the lawyer. Mr Nabi has confirmed that he will contact you by 11 March 2020 regarding this matter.

Yours sincerely
David Johnson
Customer Experience Specialist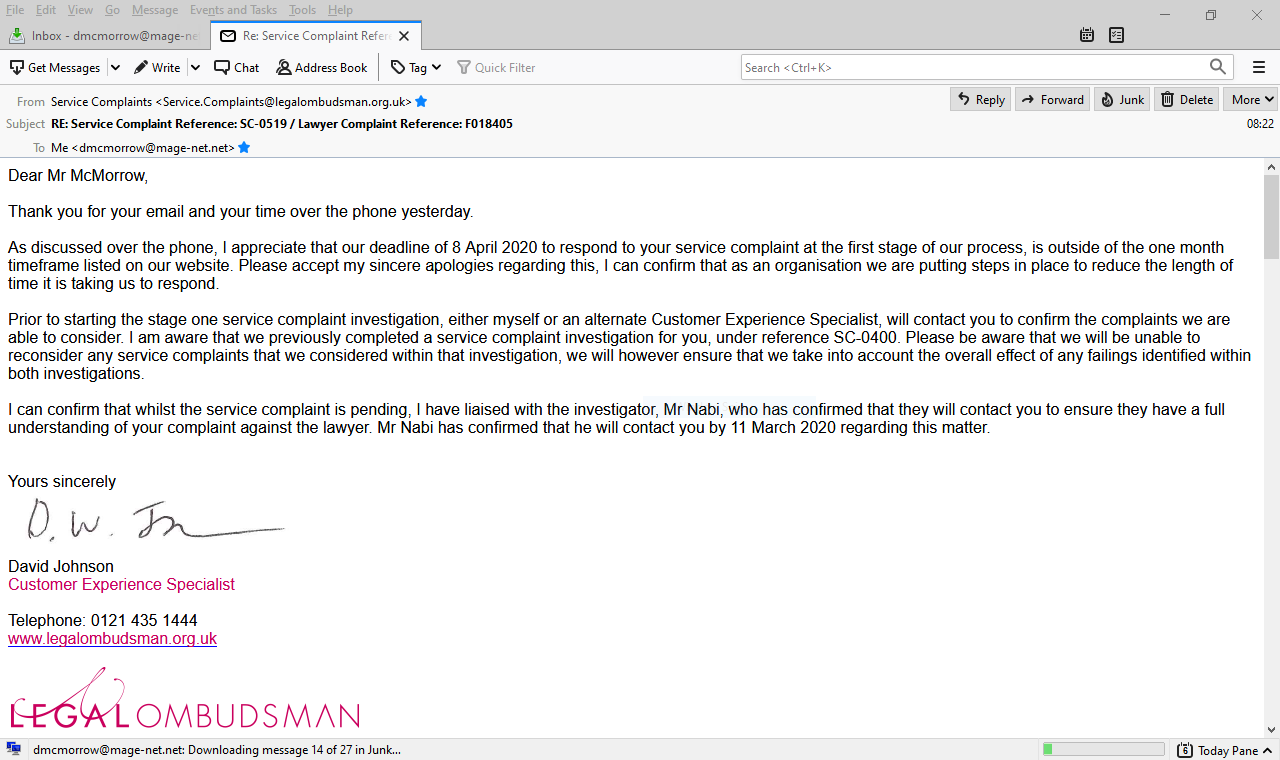 My Your complaint about our service SC-0519 Was logged So the deadline sould be I was told by the Customer Experience Administrator who logged the complaint…
He will issue his response to you on or before 8 March 2020.
I'm getting 30 days from Unhappy with our service
Was sent a Confirmation email with the caseworker understanding of my complaint. He had two points. Neither raised by me!
Assigned to a Case Worker. Who asked for a phone.
During this call, it became painfully obvious he had not read the background to the case. He had no clue what my complaint was about.
I submit a second complaint about Tyrer Roxburgh Solicitors.
My first Legal Ombudsman complaint was concluded. A year after it was submitted.
My first Legal Ombudsman complaint was made

The Legal Ombudsman. Are in no position to teach anything!
Book your place here: https://t.co/ueKyBbDZ9m pic.twitter.com/bQpVbwP63m

— Legal Ombudsman (@Legal_Ombudsman) February 6, 2020