About as effective as a chocolate teapot.
They are bureaucratic and ultimately unhelpful organization.

Trust pilot review Reviews
Dear Mr McMorrow,
Thank you for your email and your time over the phone yesterday.
As discussed over the phone, I appreciate that our deadline of 8 April 2020 to respond to your service complaint at the first stage of our process, is outside of the one month timeframe listed on our website. Please accept my sincere apologies regarding this, I can confirm that as an organisation we are putting steps in place to reduce the length of time it is taking us to respond.
Prior to starting the stage one service complaint investigation, either myself or an alternate Customer Experience Specialist, will contact you to confirm the complaints we are able to consider. I am aware that we previously completed a service complaint investigation for you, under reference SC-0400. Please be aware that we will be unable to reconsider any service complaints that we considered within that investigation, we will however ensure that we take into account the overall effect of any failings identified within both investigations.
I can confirm that whilst the service complaint is pending, I have liaised with the investigator, Mr Nabi, who has confirmed that they will contact you to ensure they have a full understanding of your complaint against the lawyer. Mr Nabi has confirmed that he will contact you by 11 March 2020 regarding this matter.

Yours sincerely
David Johnson
Customer Experience Specialist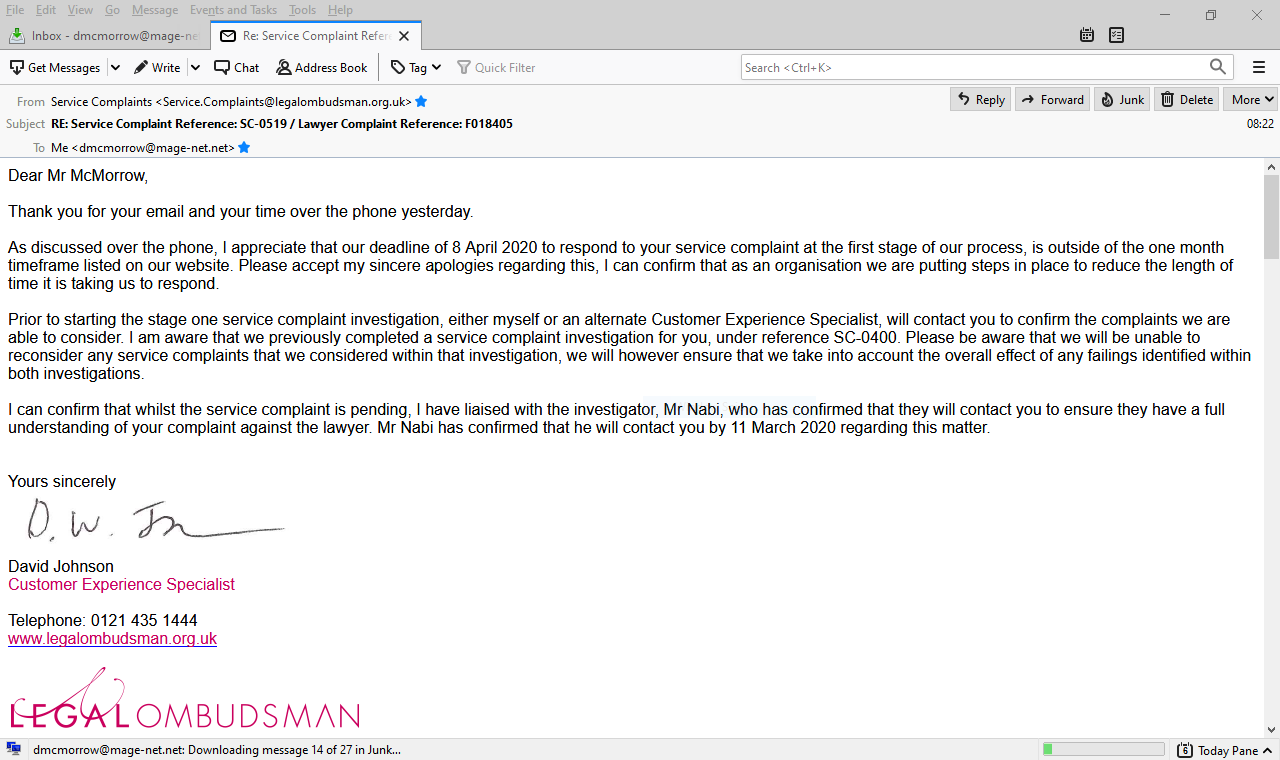 My Your complaint about our service SC-0519 Was logged So the deadline sould be I was told by the Customer Experience Administrator who logged the complaint…
He will issue his response to you on or before 8 March 2020.
I'm getting 30 days from https://www.legalombudsman.org.uk/wp-content/uploads/2017/11/Unhappy-with-our-service-factsheet.pdf
Was sent a Confirmation email with the case worker understanding of my complaint. He had two points. Neither raised by me!
Assigned to a Case Worker. Who asked for a phone.
During this call, it became painfully obvious he had not read the background to the case. He had no clue what my complaint was about.
I submit a second complaint about Tyrer Roxburgh Solicitors.
My first Legal Ombudsman complaint was concluded. A year after it was submitted.
My first Legal Ombudsman complaint was made
The Legal Ombudsman. Are in no position to teach anything!
Book your place here: https://t.co/ueKyBbDZ9m pic.twitter.com/bQpVbwP63m

— Legal Ombudsman (@Legal_Ombudsman) February 6, 2020