I getting more and more convinced that all MPs are scumbags, and cheats.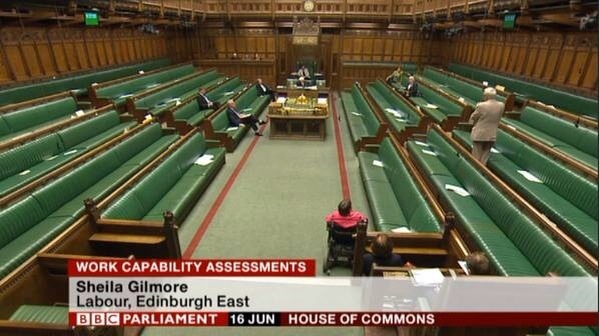 This image was of a debate in parliament on WCA by the DWP. These WCA have found people that are unable to move fit to work and have resulted in many deaths.
But it's ok because MPs are very important people who should not be expected to work for their wage.
Maria Miller stole public money, was made to payback £5k and less than minutes apology.
She did resign because she was a distraction not a criminal who should be in jail. Report
here
I emailed my local MP Bob Neil on…
13 November 2012 at 15:01 on
27 November 2012 I got a response from Vanessa Michna, using Bob's email.
Given my original letter the 'advice' was very basic and quite simply no help at all.
I have know idea if Bob Neil read my original email.
I emailed again 28th February 2014 at 10:38 so far no response.
A quick google gave me www.theyworkforyou.com
from this we learn..
Voted moderately for greater restrictions on campaigning by third parties, such as charities, during elections
&
Voted moderately against a referendum on the UK's membership of the EU
&
Voted strongly against paying higher benefits over longer periods for those unable to work due to illness or disability
&
Voted moderately against raising welfare benefits at least in line with prices
Mr Neil is against free Speach & not supportive of less fortunate people.
I also tried to contact Mike Penning the minister for disabled people. I email him 10th November 2013 at 19:38
Now given I started my email with…
Firstly let me apologise for contacting you like this but I'm feeling very isolated and somewhat ignored.
You would expect a helpful, sympethic response 11th November 2013 Janice Speaight responded with…
Many thanks for your email which has been passed to the Department for Work & Pensions for response.
I've tried to get help from DWP, but it's like trying to get blood out a stone. He's also the minister for disabled people. I would expect him to maybe show a little bit of interests.
I sent a letter to @BromleyLabourUK on 19th May 2014
No respons!
@BromleyLabourUK: Very well done to Bromley Town candidates increasing vote share today. Lib dems in massive decline and UKIP failed. http://t.co/hdnuA9QWvP
@danielmcmorrow: @BromleyLabourUK yet you still won't respond to voters who ask for help.
@BromleyLabourUK: @danielmcmorrow I am sorry after careful consideration of your letter it is a matter for the MP not local election candidates.
You may think MPs trying to get elected might be helpful…your would be wrong.