Morning,
@999CallforNHS: We need local groups along the route to help us form a relay all the way to parliament. Please join #marchforthenhs http://t.co/6FcANqtbHs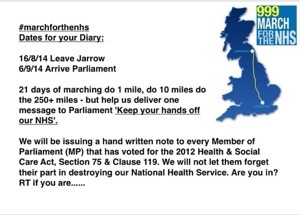 Assuming my dates are right 06/09/2914 Is a Saturday. And I love to go. Meet up about a mile from the end and March with them.
I will ask for someone to drive the van but we could do it via train! What you think?
If you can drive, are free than please email me. If we go on train the are a few logistical issue we need to resolve. Toilet, Lunch, etc…
>