I can't claim to be a fan of politics or at times understand their some what questionable polices. How ever since saving my life in December 2010 the NHS has been very close to my heart.
Unfortunately I've had reason lately to contact my MP, Bob Neil http://www.bobneillmp.co.uk/ and. The Minister for Disabled People Mr Mike Panning http://www.mikepenning.com/
I can honestly say if Mr Panning was given his P45 tomorrow, I might throw a party.
ministerial code Why has no one stopped them.
The "forward" of the above document says…
In everything we do – the policies we develop and how we implement them, the speeches we give, the meetings we hold – we must remember that we are not masters but servants. Though the British people have been disappointed in their politicians, they still expect the highest standards of conduct. We must not let them down
yet…
@DorothyCStaley: RT@WillBlackWriter: This is how much MPs care about the most disadvantaged people in Britain, Pic via @BolsoverBeast http://t.co/jUcrc8E0f6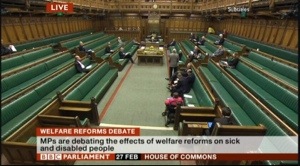 b. Ministers have a duty to Parliament to account, and be held to account, for the policies, decisions and actions of their departments and agencies;
So Mr Hunt is responsible for HIS decision to privatise the NHS and Mr Cameron lied during his bid to get elected.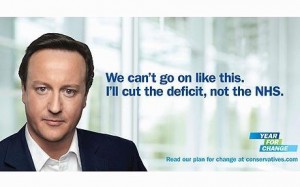 David Cameron has pledged to protect spending on the NHS as he set out twenty policies to boost Britain's health services if the Conservatives win the forthcoming general election.

http://www.telegraph.co.uk/news/election-2010/6931790/David-Cameron-sets-out-20-policies-to-boost-NHS.html
1. Scrap hospital targets
2. Give patients detailed information about the performance of doctors, hospitals and GPs.
3. People allowed to choose where they are treated
4. More private and voluntary providers in NHS
5. GPs' pay linked to their performance and results
6. Cut cost of NHS administration by a third
7. Independent NHS board to manage the health service
8. Hospitals will lose money if patients contract MRSA
9. End mixed-sex accommodation
10. Drug companies paid according to effectiveness of treatments
11. New hotline for urgent care to run alongside 999
12. New maternity system giving mothers more choice
13. Every five-year old given a dental check-up as part of overhaul of NHS dental service
14. Fines for those missing dentist appointments
15. New drive to help the mentally-ill
16. Department of Health turned into Department of Public Health
17. More funding for poorest areas to tackle health inequalities
18. £10 million a year to support hospices caring for children
19. Single budget for each person suffering from chronic illnesses to cover their health and social care
20. Everyone can protect their homes from being sold to fund residential care by paying a one-off insurance premium of £8,000 when they retire.
http://www.telegraph.co.uk/news/election-2010/6932087/David-Camerons-NHS-pledges-the-20-points.html
c. It is of paramount importance that Ministers give accurate and truthful information to Parliament,correcting any inadvertent error at the earliest opportunity. Ministers who knowingly mislead
Parliament will be expected to offer their resignation to the Prime Minister;
Some could argue that his actions towards the NHS given his election pledge constitutes misleading parliament.
f. Ministers must ensure that no conflict arises, or appears to arise, between their public duties and their private interests;
Update
http://mikesivier.wordpress.com/2013/12/12/the-faces-of-mr-penning/
I also tried to contact Mike Penning the minister for disabled people. I email him
Now given I started my email with…
Firstly let me apologise for contacting you like this but I'm feeling very isolated and somewhat ignored.
You would expect a helpful, sympathetic response Janice Speaight responded with…
Many thanks for your email which has been passed to the Department for Work & Pensions for response.
I've tried to get help from DWP, but it's like trying to get blood out a stone.
UPDATE
On I got a response to my letter to the Minister for Disabled People.
Thank you for your further correspondence of 29 July to the Minister for Disabled People regarding Access to Work. Government Ministers receive a large volume of correspondence and they are unable to reply personally on every occasion. We have been asked to respond and apologise for the delay.
On I submitted a Freedom Of Information (FOI) Request.
How many hours do Minister have to work a week?
How much communication (letter/email/etc) do Minister get. (this can be an average over a month.)
From Constituents & From Non-Constituents
I got a written responses few weeks later.
How many hours do Minister have to work a week?
A. ministers don't have set hours.
How much communication (letter/email/etc) do Minister get. (this can be an average over a month.)
A. They don't have a break down – howevers it's 50,000 a year.
Let's break that down. 12 months a year, Min 28 days a month, Most people work 5 days a week.

50000 / 12 = 4166.66666667 (Round up 4167)
4167  / 28 = 148.821428571 (Round up 149)
149   / 5  = 29.8 (Round up 30) 

So it's on average 30 letters a days. I'm clearly in the wrong job.