I called Bromley Social Care (First Response), I was moving from Bromley to Wood Green.
As a disabled man I have a lot of equipment from Bromley. A bed (with air mattress), Hoist & Shower chair and Care Package that provids me with 4 calls a day 365 days a year.
I was informed it was not their responsibility…
I made a formal complaint via phone.
This was a major mistake.
This complaint was confirmed by letter Complaint 2016-07-28
As you can see the crux of my complaint has been understood.
You state you will be moving to Wood Green but say that you have equipment that needs to be moved to your new address. Your complaint is that the council has no procedure in place for service users who move
The not responsibility comment was confirmed in email…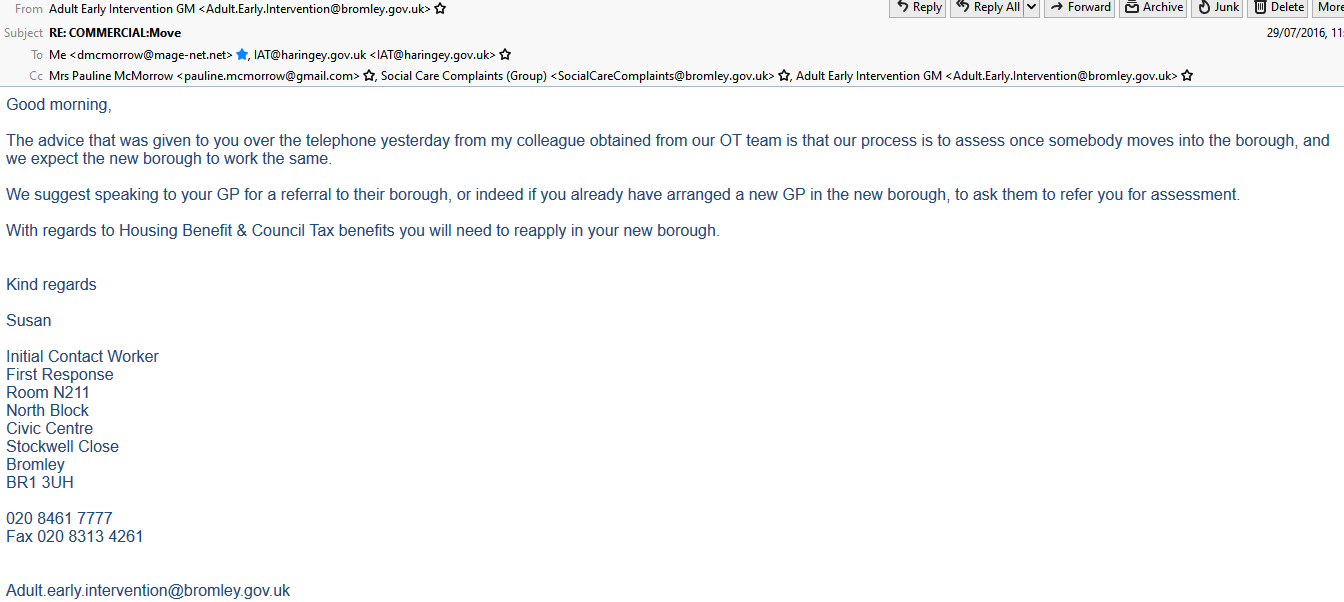 Good morning,

The advice that was given to you over the telephone yesterday from my colleague obtained from our OT team is that our process is to assess once somebody moves into the borough, and we expect the new borough to work the same.

You expect but don't know.

We suggest speaking to your GP for a referral to their borough, or indeed if you already have arranged a new GP in the new borough, to ask them to refer you for assessment.
With regards to Housing Benefit & Council Tax benefits you will need to reapply in your new borough.
Kind regards

Susan Initial Contact Worker – First Response
A response to my complaint was received.
dm-p158362-response-to-complaint
You will notice it totally avoids the question that was confirmed on .
It ignores the obvious lack of a procedure and appropriate training as the answer given by Susan on and supported by OTs was totally wrong.
It however, agrees to assist in the move.
From the until (my move date) Bromley made more and more mistakes.
I was informed by Haringey that they were still not aware of me and my needs.
I again spoke with Bromley Social Services and was assured
Monica Blake
who was dealing with my move would call me back in 5 minutes.
At (10 minutes after
Monica Blake
was due to call) I called again and made another complaint with
Mario Giannini
.
He was very apologetic about the lack of action and appeared to understand the urgent requirement and was going to raise the issue with someone one other than
Monica Blake
.
This never happened, no one from Bromley has called me to Discuss the delays and lack of support from Bromley.
Monica Blake
spoke with my mother (Mrs Pauline McMorrow) it transpired Haringey where informed on Of My care needs.
Effectively giving a Haringey Council three working day (due to being a Bank Holiday)
XXXXXX Care are the care provider picked by Bromley to look after me in Haringey
I've seen an email to XXXXXX Care dated providing them with the wrong address.
Again this would appear to have been rushed. As such XXXXXX care had very little time to prepare for my care needs. I had given Bromley over a month to arrange my care and equipment.
Bromley have blamed this wrong address on information they got from my mother.
I have never giving Bromley permission to speak with my mother
I made a second stage two formal complaint. In my email I requested an acknowledgement of my complaint.
Bromley Complaint 2 – Move – 8th September 2016
A SAR request for all my records including communication between Bromley and Haringey.
A FOI request for the move procedure.
@danielmcmorrow Hi there's one stage for adult social care complaints with local authorities.
Link to Tweet
This would suggest my second complaint of was not needed and the non-response of would allow me to approach to LGO.
A Graham, Walton emailed me
I am very sorry that we have not provided a response. However, I can find no trace of your request having been received by our coordinators. Could you please let me know how and where it was sent, so that I can establish what may have gone wrong and take any action needed to correct this.
It was not until ICO – Decision – 2017-01-09

The DPA & FOI Acts breaches have been reported to the ICO
LGO – Bromley – 2017-02-10 – Final Decision
It states…
The Council says it does not have a policy for moving adults from one area to another, but says it will add this to the list of tasks to be completed by its Editorial Board which meets quarterly.
It also states…
After receiving my draft decision statement, Mr X was aggrieved that the Council had continued to charge him a contribution for the six weeks for which it funded his care. He said it only charged him because it had delayed in transferring his case to the new council.As Mr X received the care for which he was charged a contribution, however,he did not suffer any injustice as a result of the charge
Now the Care Act, That the LGO quote in the Final Decision says…
continuity-of-care-and-support-when-adult-moves the relevant suctions are under Continuity of care and support when adult moves parts 37 & 38
38. (1) If, on the day of the intended move as mentioned in section 37(1)(b), (2)(b) or (3)(b), the second authority has yet to carry out the assessment or assessments under section 37(6), or has done so but has yet to take the other steps required under this Part in the adult's case, it must—
(a)meet the adult's needs for care and support, and the needs for support of any carer who is continuing as the adult's carer, which the first authority has been meeting, and
(b)where the first authority has been keeping a care account in the adult's case, itself keep that account on the same basis as the first authority has been keeping it.
Too me the above suggests it should have been Haringey (the second authority) that paid not Bromley (the first authority)
As A result we have LGO – Bromley – Decision Review –
LGO – Bromley – Decision Review 1.3 -<13th February 2017
LGO Letter 2017-03-10 so we have LGO – Bromley – Decision Review – 1.2 – 10th March 2017
Given the errors made by both LGO and Bromley I made the very kind offer of… Bromley – Decision Payment – 2 – 2017-03-22
I made the offer on So after 65 days (45 working days) after the offer was made, Bromley said no.
We now have…
www.whatdotheyknow.com
I got Bromley – 2017-05-31 – Response-to-Complaint As you can see My request of said evidence of permission In Bromley's response their was no evidence of permission. So We have Bromley – SAR 2 – 1st June 2017
In The LGO LGO – Bromley – 2017-02-10 – Final Decision it states…
Mr X complained to the Ombudsman about the length of time the Council had taken to transfer his care to the new council. He said the social worker had only given the new council three days notice of his transfer. He said the care agency had missed the first call because it had been given the wrong address, but the Council had tried to say it was his mother who had given the agency that address.
On the District Nursing staff told the social worker that they could not order Mr X's new equipment until he registered with a GP in the new council area, as they worked to individual GPs. When Mr X's mother telephoned the new council (as advised by the social worker) to check arrangements, the member of staff at the new council said they did not have details of Mr X.
So the Social Worker ​recommend mother contact my new council. From the wording of the document I understand Social Worker​ works for Bromley.
In ​my SARs ​shows Bromley ​employees Monica Blake,​ Tameka Morrison ​and Jo Fielder ​spoke
with my mother Pauline McMorrow ​now either you did speak with her or the SARs ​is fictitious
Either Bromley broke The Data Protection with regards to talking with my mother or the broke it with forged SARs disclosure.
Dear Mr McMorrow,
Thank you for your request received yesterday under the Freedom of
Information Act for information relating to an Editorial Board.
I am not aware of this body. Please contact me if you have any further
information that might explain what it is and I will endeavor to provide
the information that you require if we hold it.
Thanks,
Graham Walton
This would suggest Bromley lied to the LGO when they said.
The Council says it does not have a policy for moving adults from one area to another, but says it will add this to the list of tasks to be completed by its Editorial Board which meets quarterly.
I made a the above FOI request using www.whatdotheyknow.com. FOI Requests Have a 20 (working) day limit. Bromley yet again failed to respond.
Dear Bromley Borough Council,
Please pass this on to the person who conducts Freedom of Information reviews.

I am writing to request an internal review of Bromley Borough Council's handling of my FOI request 'Editorial Board'.
I have once again referred this to the ICO.

A full history of my FOI request and all correspondence is available on the Internet at this address: https://www.whatdotheyknow.com/request/editorial_board

Yours faithfully,
Daniel McMorrow
www.whatdotheyknow.com
I'm more and more convinced Bromley is run my failed used car salesmen. The ineptitude and stupidity is amazing.
Today I received Dom 2017-05-08 till 2017-06-04
I've lost count of the number of time I've told Bromley I won't be paying.
I keep getting invoices from Bromley. It's embarrassing.
However it reminded me to contact The LGO *again*
I pointed out Response – 7th October 2016
It clearly says
An interim care package of six week was arranged and funded by LBB to ensure as smooth a transition as possible
My main objection apart from Bromley saying they would or Care Act Parts 37 & 38 being totally different. Is the amount
£62.45 x 6 (weeks) £374.70
When I move to Haringey they assessed my cage as £54.73 x 6 (weeks) £328.38