You may remember awhile ago my commenting on the totally inept PHSO Here
Well yesterday I got PHSO Letter 09-03-2015
Another well crafted letter that confirms ONLY that PHSO don't read the full history of a complaint but instead look for any easy way out supporting the very organization they were setup to monitor.
Let take the letter apart….(for fun)
It is evident that Huntercombe Group were engaged to provide information to your employers about your fitness to work and the legislation that governs our work does not allow us to investigate such complaints. Quite simply, we do not have jurisdiction over the actions of Huntercombe Group in this capacity.
So that's the ICO, GMC, CQC and PHSO who don't have jurisdiction. So we have Data Protection Laws that no one enforces making the DPA a total joke.
You reiterate that you did not give permission for your information to be shared. However, it is evident from the papers that you did provide written consent to your manager in an email dated It seems this email confirmed that your employer could approach Huntercombe Group with regard to any medical questions they might have. I know that you dispute that you ever gave oral permission but the fact remains that you provided written permission.
Again this completely disregards the issue. The email in question is Email 23-07-2012 – I've edited this file to remove my former employers information.
Lets accepts for a minute this was permission (not that it was)
it does not explain
Why I never saw the letter first
Got to comment on the letter
It also states "permission" was given to my employer, not to Blackheath
Its also ignore the fact Email 04-09-2012 would have removed permission suposley give on
We have now completed our review of your complaint and reached the end of our process. If you are still unhappy with our decision, and want to challenge it again, you will be able to do so only by applying for judicial review. Judicial review is a form of court proceeding where a judge reviews whether a decision or action made by a public body is lawful. There are time limits for this and you may incur costs. You may therefore want to take
Ah yes an unemployed young man who's been on benefits for three years can clearly afford taking legal action.
UPDATE
lc329_ombudsmen.pdf
That document on last page (90) has a flow diagram box one hasdouments
"Has the complaint been properly referred to by MP"
Would may complaint have more sway if referred to by my MP? How is this fair? My MP is a total waste of space who has ignored me twice!
UPDATE
The understatement of the decade!
"Too often, public services regard complaints as a nuisance. They are nothing of the sort.
UPDATE
The Patients Association's report found that:
* More than half of the patients claimed the PHSO "takes sides with the organisation it is investigating"
* Nearly half felt it was "unwilling to challenge" NHS organisations
* That the ombudsman "fails to investigate complaints fully"
* It "produces final reports full of inaccuracies"
* And it "makes patients feel like they are a nuisance for complaining
Health watchdog accused by patients of taking NHS's side
How many reports dose it take before the PHSO admit they are evil!
Patient Association report referenced in above article.
PHSO-Labyrinth-of-Bureaucracy-Follow-Up-to-the-Patient-Association-PHSO-report.pdf
UPDATE
If the PHSO was a sick animal, it would have been put down.
NHS Ombusdman accused of major failings
UPDATE
On I sent Mr Jonathan Roper He responded on with…
I am very sorry to read of your concerns about our Office.
Firstly him "being sorry" is absolutely pointless My faith PHSO
is non-existent him doing his job in a professional manner would demonstrate his sincerity – but thats asking lot.
I will arrange for one of my team to carefully consider the correspondence you have sent us, which you attached to the email.
My letter was full of legal regarding the 'powers' of PHSO it needs to be reviewed by a lawyer!
We will contact you again about this as soon as possible. We will look to do this within the next two to three weeks and will keep you updated.
Maybe three weeks is different to the PHSO
UPDATE
http://www.ombudsman.org.uk/make-a-complaint/case-summaries/volume-2/parliamentary/man-moved-home-after-data-breach-by-jobcentre-plus
From the above we can concluded there was nothing for the PHSO to do.
Did the work.
They will love this as they can publish it as a "closed" case. It also begs the question why they can't look at my case, which at its core is the same Breach of DPAf
UPDATE
I got a response form Mr Jonathan Roper, to say this email was pointless, would be nice.
My response To PHSO Letter 27-04-2015
UPDATE
On Friday 24th April 2015 Mr Jonathan Roper
Said…
I now have all the information I need to write to you. However, before doing this, I thought it appropriate to check if the points above have covered all your issues as I am keen to provide you with a full response.
On Wednesday 29th April 2015 Said
I will carefully consider its contents. I will provide my full written response to this letter and your previous one as soon as possible, but within the next two weeks.
So no matter the question the "stock" answer from PHSO is Two Weeks.
UPDATE
On Friday 29th April 2015 Mr Jonathan Roper
Said…
I will carefully consider its contents. I will provide my full written response to this letter and your previous one as soon as possible, but within the next two weeks.
So he had everything, then on he needed more time. I'm at a loss to explain the constant and endless delays.
UPDATE

I was at Blackheath from until During this time Blackheath we're responsible for my medical care – a task I don't think they took seriously…
Care Plan 25-04-2012 I was at Blackheath for a number of weeks.
You would expect a "Care Plan" written each week/month – their are 6
5 of the "Care Plans" are all dated the same
MY DOB IS wrong on all 6 "Care Plans"
While at Blackheath they put my left foot into a plaster cast to straighten my foot. I want it noted I agreed with this, and it has helped. But the form giving them permission to do this, is incomplete.
Form 19-07-2012
if the cast is not removable is medical consent required un-ticked
Has written/verbal informed consent of patient/NOK been given un-ticked
If non-removable has emergency removal procedure… un-ticked – it was also never discuss with me
It's unsigned – making accountability for the mistakes impossible
The two above medical errors have been reported to PHSO who have ignored it.
UPDATE
Another fantastic letter from Mr Jonathan Roper at the PHSO
PHSO Letter 20-05-2015
In your case, The Huntercombe Group are an independent provider and therefore we can only look at complaints about services they were commissioned by the NHS to provide to you. As we understand things, the Huntercombe Group were an independent provider commissioned to give you NHS care and treatment. On that basis we could look at a complaint about the treatment they provided to you that was funded by the NHS.
So I take from this as the NHS did not pay for my employer to break my privacy there is nothing the PHSO can/will do. Lets forget that my employer was the NHS.
When contracting services to independent providers like Blackheath. Are they not bound by rules?
1.This document is a guide to required practice for those who work within or under contract to NHS organisations concerning confidentiality and patients' consent to the use of their health records. It replaces previous guidance, HSG (96)18/LASSL (96) 5 – The Protection and Use of Patient Information and is a key component of emerging information governance arrangements for the NHS.
2. For the purposes of this document, the term 'staff ' is used as a convenience to refer to all those to whom this code of practice should apply. Whilst directed at NHS staff, the Code is also relevant to any one working in and around health. This includes private and voluntary sector staff.
Confidentiality: NHS Code of Practice
So The NHS wrote this document but it don't apply.
Lets also explore the fact that only because I was under the care of Blackheath could Dr Luff have written this letter.
UPDATE
UPDATE
Letter to Mrs Rachael Russell, Mr Jonathan Roper's manager
To PHSO Letter 26-05-2015
UPDATE
Another POINTLESS and completely out of the blue, letter from the PHSO PHSO Letter 28-05-2015
Let take the letter apart….(for fun)
We are independent of both the NHS and government. We look at complaints fairly and do not take sides. We make decisions about whether we have seen mistakes, or if an organisation has acted correctly.
That is a LIE! In Letter PHSO Letter 09-03-2015 The PHSO attempt to defend the actions of Blackheath compleatly ignoring other emails.
We also try to resolve complaints quickly without the need to investigate, wherever possible.
They (the PHSO) do everything in their power not to investigate – thats true, mainly it involves stressing the person making the complaint so much they give up. They lie and cheat. And misinterpret everything.
If we decide not to investigate, we will clearly explain why
Yes. and when asked to clearly state the law you're saying stops you from investigating you "forgot"
We aim to do this within four weeks. We will update you regularly, and will let you know if we think it might take longer.
Another LIE! I contacted the PHSO in November 2014 so far nothing!
Also as far as keeping me informed, It's due to my relentless chasing, emails and phone calls.
UPDATE
The PHSO sent me a fantistic letter PHSO Letter 28-05-2015 it states…
We aim to do this within four weeks. We will update you regularly, and will let you know if we think it might take longer.
On I sent complaint to Mrs Rachael Russell about Mr Jonathan Roper and his careless attempt to fob me off.
Mrs Rachael Russell Said she would respond by . Today is no response.
It also states…
One of our customer service staff will carry out these checks, and will contact you very shortly to introduce themselves. They will let you know what they will be doing and how long this will take.
My definition of shortly is maybe 2 or 3 days – not 8 days.
UPDATE
Got Out-Off-Office from Mrs Rachael Russell shes away till
UPDATE
A total work of fiction today from Mr David Guy at The PHSO He explained
Mrs Rachael Russell had issues emailing on on
All my communication with the PHSO so far has been by letter!
My phone was on all day – yet no phonecall
Mr Guy Kindly forward me the password (I use that term in the loosest possible way) and a PDF document.
I've worked in IT for 15 years. Firstly PDF files can be cracked depending on strength of the password can determine the time it takes to do this.. a password of "Pacific01" is NOT secure in any sense of the word.
www.passwordmeter.com gives this password a bit fat zero.
Results
While Mrs Rachael Russell & Mr Jonathan Roper admit to "mistakes" with minutes & deadlines Mrs Rachael Russell found nothing wrong! I'm not surprised
In my complaint to Mrs Rachael Russell (To PHSO Letter 26-05-2015) We can quite clear identify unansewred questions. Mrs Rachael Russell has carrefuly avoided answering these. Make the PHSO completely unaccountable.
TIPS
When dealing with the PHSO
EXPECT NOTHING
Upon reflection EXPECT NOTHING Was/Is a bit unfair. You can expect LIES, UNANSWERED QUESTIONS & STRESS
They will LIE and support each other. They will be a major source of stress! They will appear as if on your side, but that will quickly be seen as a ploy.
Join (phsothefacts.com) What really happens when you make a complaint to the Parliamentary and Health Service Ombudsman A true support group full of fantastic people. Warning some of the stories about the PHSO (and service they monitor) are truly shocking – You will be left asking how people at the PHSO sleep.
UPDATE
@PatientsAssoc: No consent and no accountability for the actions of staff on a #Patient while in Care #ComplaintsAPPG – http://t.co/S5weg5Poia
UPDATE
On the PHSO said they would be in contact with me regarding the medical "errors" at Blackheath (See above)…so far nothing!
UPDATE
@NHSConfed_Press: Read our response to the Parliamentary & Health Service Ombudsman report on NHS complaints http://t.co/FaPOXQ3ajW
report-on-selected-summaries-of-investigations
Like all good NHS documents it agrees change is need, but provides no insight into the changes or how they could be accoumplished.
It has the NHS sock phrase lessons that have been learned
Which has been used sooo much it's lost all meaning.
Its not exactly a "response", more of a limp (pointless) agreement.
UPDATE &
FINAL_PHSO_Annual_Report_and_Accounts_2013-14.pdf
When i've stopped crying at how ridiculous that work of fiction is I'll review…
I had a fantastic post – and lost it :(
A voice for change
This is a neurolinguistic tick. The word "voice" implies you have a voice and your concerns will be addressed. In my case I'm left with more questions after the PHSO did nothing.
Enquiries
Again more wordplay. "Enquiries" to me are simple questions ie. "what's your postal address". This large figure gives a distorted view of PHSO being busy
We completed 2,199 investigations, compared with 384 in the previous year
Again a fantastic statistics but the difference needs to be explained.
I've asked the PHSO to clarify the two above points in terms & definitions
The big one
854 were upheld in part or in full
so from 27,566 "Enquiries" only 854 were upheld.
Not exactly something you want to scream about.
UPDATE
Guess what?
the PHSO are useless. (as if we did not know that)
This letter is funny and only serves to prove the PHSO are a total joke.
You are looking for financial remedy to your complaint.
Errr. We have never discussed the remedy i'm looking for.
My first complaint I suffered a financial loss, so financial remedy is appropriate.
Saying this is another presumption – and one that needs to be answered
They have correct identified my complaint (a miracle) however they contradict themselves….
We have carefully considered the information you have provided and have decided not to take further action on your complaint.
and then…
I am afraid that we are unable to find evidence of any personal injustice arising from the events you complain of.
You can't find "evidence" because you never looked. In 2012 Lewisham Adult Safeguarding used records to show Blackheath did nothing wrong, who's to say these records were not altered? It's a fact that Blackheath have got many medical facts wrong.
By doing nothing Blackheath are free to do this again.I was 1 of 3 people out of 18 patients that could talk.- My major concern is them doing this again.
My experience at RHN was fantastic. At a time where everything was utter chaos the RHN gave me hope. Had i gone to Blackheath I don't think my views on life would be so positive.
UPDATE
Hah! DoH Just respoded to my FoI Request third_party_laws And as expected the PHSO lied!
hConfidentiality – NHS Code of Practice Dose apply to third party providers.
In response to questions, E, E1, E2, E3 and F. Firstly, yes the attached Confidentiality Code of Practice does apply to all providers of NHS care, whether they are NHS or non-NHS providers.
They also confirm…
It is a criminal offence to breach the Data Protection Act (1998) and doing so can result in imprisonment. The Human Rights Act (1998) also states that everyone has the right to have their private life respected. This includes the right to keep your health records confidential. If clinicians breach either the Data Protection Act (1998) or the Human Rights Act (1998), then it could potentially lead to a review of their fitness to practice.
I Would argue PHSO doing nothing is also breaking the law and they are aware of an offense.
UPDATE
After a fantastic response form DoH I thought I would clarify…
Do the PHSO have the remit and or power to investigate a Dr breaching the DPA?"
Answer:YES
UPDATE
@PHSOmbudsman: Read our case summary about how NHS Eng. did not address grieving widow's unanswered questions http://t.co/5EfiWpto8d http://t.co/gpCGggTGcx
The hypocrisy here is amazing. After speaking to the PHSO I had MORE question then when I started, when asked I was ignored!
The Biggest question was/is
How can the PHSO be impartial and defend Blackheath?
Second question! I asked the PHSO to quote the law they are using to refuse an investigation. They never did.
UPDATE
I know the PHSO are a total joke – They have refused my case as the breach by Dr Luff was not paid for by the NHS! (Had they not paid for my care, Dr Luff would not have been able to write the letter)…
I have just found in 2014 they talked to Blackheath!
UPDATE
So
@PHSOmbudsman: New complaints handling toolkits from NHS England launched today. Pleased to have worked with others to develop this https://t.co/uBTecLSDaQ
on that link we find Health & Social Care Data Flows: Information Governance – Preparing for Transition – What You Need to Know on page 8….
2.1 General Principles Regarding the Use of Confidential Information
The HSCIC will shortly be publishing a Code of Practice on the management of confidential information in line with its obligations in the HSCA. The Code of Practice will outline the general principles for handling care records, including the need to maintain accurate records, to share them when appropriate, to inform citizens about the use of records, to hold records securely and to act within the law. You will be required to comply with the Code of Practice once it is issued.
The comprehensive source of information and guidance on your detailed obligations regarding PCD is the IG Toolkit. This integrates the many different rules that cover how confidential information should be handled, including those set out in:
• The Data Protection Act 1998
• The common law duty of confidentiality
• The Confidentiality NHS Code of Practice
• The NHS Care Record Guarantee for England
• The Social Care Record Guarantee for England
• The ISO/IEC 27000 series of information security standards
• The Information Security NHS Code of Practice
• The Records Management NHS Code of Practice
• The Freedom of Information Act 2000
• The Health and Social Care Act 2012
What they don't they don't tell you is these rules are not enforced! The ICO (who manage the DPA & FoI) don't investigate individual complaints. The Confidentiality NHS Code of Practice is also not enforced.
So once again the PHSO have published documents that on closer inspection fall apart.
UPDATE
Yesterday The PHSO asked
We are holding a Twitter Q&A at 12 tomorrow on our report on #NHS investigations into avoidable death & harm. Tweet us Qs using #askPHSO
In the hour long Q&A they answered ONE question on the scope of the "review"
The answer (as you would expect) Is somewhat confusing. In all communication this report has been identified as NHS report, the PHSO's answerer would suggest Mental Health & Ambulance Trusts are not part of the NHS.
The review focused on hospital trusts across England only, not mental health or ambulance trusts #askPHSO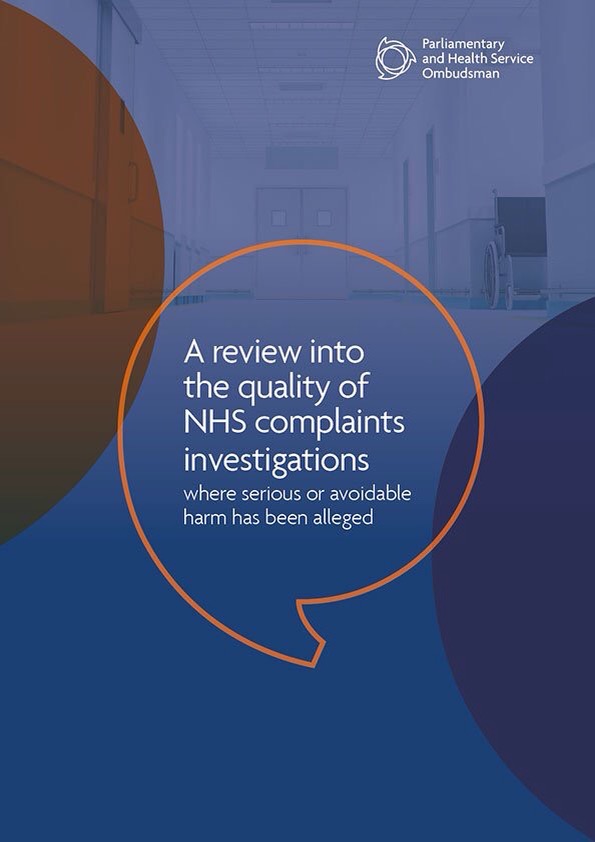 UPDATE
Whats be remarkable in the PHSO "research" has been the lack of criticism of the CQC. It is part of the CQCs remit to check the policy for receiving-and-acting-complaints
The regulation states…
All complaints must be investigated thoroughly and any necessary action taken where failures have been identified.

This suggest (to me) that while the CQC don't investigate complaints, they do look at how the complaint was handled and will make sure "Lessons Learned" are implemented.
So we have a serious question. Of the trust looked at by the PHSO, how many where rated good or better by CQC and WHY?
Now the really question is… The CQC had published a report on complaints http://www.cqc.org.uk/sites/default/files/20141208_complaints_matter_report.pdf according to the document is was Published December 2014 so the question is…What has the PHSO been doing? Why waste public money re-doing research?
The CONCLUSION on page 39 states…
This report paints a partial picture of the state of complaints in health and social care services, but one in which some things are clear. There is wide variation in the way complaints are handled and much more could be done to encourage an open culture where concerns are welcomed and learned from. While most providers have complaints processes in place, people's experiences of the system are not consistently good.
UPDATE
Each time the PHSO answer a FOI Request, I find it raises more questions than it answers!
According to The PHSO I asked…
@PHSOmbudsman @XXXX @XXXX What are the top 5 reasons for not doing an investigation? Don't make me do a FOI.
I got a response. FDN 251997 Data
Im not going to discuss the full file because it will just highlight how pointless the PHSO are.
Firstly a small point on process. In FDN 251997.pdf (above) they state
Please note that the information for 2015/16 is only provisional as we have yet to fully clean the data.
Now these are the reasons for closing a case without investigation, it either falls into a category or it don't. So what's "clean data" mean?
Secondly the data for 2015/16 is huge jump from 2014/15….i.e.
General discretion is 2014/2015 was 832 in 2015/16 it's 1854
There is no account or reason for this jump given.
UPDATE
My feelings about the PHSO are not very well hidden. But todays publication of Service Charter is an insult to everyone who approched the PHSO.
Lets for fun examine the claims made in the Service Charter.
Under the heading…
Giving you the information you need
We will:
explain our role and what we can and cannot do
explain how we handle complaints and what information we need from you
direct you to someone who can help with your complaint if we are unable to, where possible
keep you regularly updated on our progress with your complaint
The PHSO make a big song and dance about being the last organization you can complain to. If they can't help you fall to into The Regulatory Gap (if anyone has a good link to explain this please email me dmcmorrow@mage-net.net)
In my case I had to chase them almost daily, I'd never speak to the person doing the investigation.
Under the heading…
Following an open and fair process.
We will:
listen to you to make sure we understand your complaint
explain the specific concerns we will be looking into
explain how we will do our work
gather all the information we need, including from you and the organisation you have complained about, before we make our decision
share facts with you, and discuss with you what we are seeing
evaluate the information we've gathered and make an impartial decision on your complaint
explain our decision and recommendations, and how we reached them
The letter I got from the PHSO saying the don't deal with employment issue is proof they don't understand complaints. My complaint was a breach of date protection, yes my Dr did write to my employer but that was not my concern. They did not have permission to write any letter.
The PHSO never explained to me how the work (or don't as the case is) or how they came to their result, when I asked for more I was ignored
Under the heading…
Following an open and fair process.
We will:
listen to you to make sure we understand your complaint
explain the specific concerns we will be looking into
explain how we will do our work
gather all the information we need, including from you and the organisation you have complained about, before we make our decision
share facts with you, and discuss with you what we are seeing
evaluate the information we've gathered and make an impartial decision on your complaint
explain our decision and recommendations, and how we reached them
The information I gave them was electronice scanned Care Plans & The Letter. There was noting Blackheath could add
evaluate the information, This I assume is code for ignore bits of your evidence we don't like.
Under the heading…
Giving you a good service.
We will:
treat you with courtesy and respect
give you a final decision on your complaint as soon as we can
make sure our service is easily accessible to you and give you support and help if you need it
look after the information you give us
PHSO run a public consultation on the Service Charter
On I submitted my response to
Service.Charter@ombudsman.org.uk at the time the DRAFT Service Charter
HaveYourSay
As you can see My comments have been ignored.